Mercedes GLE vs Volvo XC90
Who needs an MPV when large premium SUVs can carry seven? We pit the refreshed Mercedes GLE against the updated Volvo XC90
Mercedes has revamped its large GLE SUV. Its predecessor was getting on a bit, but this is an all-new car so it should stand a better chance of stealing customers from key luxury rivals, such as Volvo.
The GLE now comes with the option of seven seats, which means it has a hugely talented (and newly updated) rival to face: the Volvo XC90 B5 (D). This version of the excellent Scandinavian SUV isn't too different from the model it replaces (the D5), but it now features mild-hybrid technology, which is designed to boost efficiency. Here we'll find out if this new engine tech can secure a win for the XC90, or if the new GLE's smarter cabin, with its up-to-date in-car tech and engine range, can launch the Mercedes into the lead.
To appeal to buyers in this price range, the GLE and XC90 have to bring together a few different core aspects. They need to be spacious and luxurious, offer good performance and also return decent economy in order to justify their diesel powertrains in a climate where buyers are turning away from this fuel. 
Mercedes GLE
| | |
| --- | --- |
| Model: | Mercedes GLE 300 d 4MATIC AMG Line 7-seat |
| Price:  | £57,380 |
| Engine:  | 2.0-litre 4cyl diesel, 242bhp  |
| 0-60mph:  | 7.4 seconds |
| Test economy:  | 31.9mpg/7.0mpl  |
| CO2:  | 162g/km  |
| Annual road tax:  | £465 |
We're testing the GLE 300 d, while the whole range is only available in AMG Line trim. In seven-seat form (a £1,995 extra), it costs £57,380.
Design & engineering
The latest GLE is  longer and wider than the previous version, while the wheelbase has been stretched, helping to boost legroom in the rear.
At 4,930mm long and 2,018mm wide, this is a big car – yet it's slightly more compact than its rival here, because the XC90 is even longer.
Adaptive air suspension was fitted to our test car, which was an early production model, but it's actually not available on the 300 d, which comes with steel springs. The XC90 B5 (D) is available on air suspension, but you'll have to pay extra for the option or go for a higher trim level.
The GLE uses a nine-speed automatic gearbox, sending power from the 2.0-litre four-cylinder diesel to all four wheels. The motor has 242bhp, a little more than the Volvo's 232bhp, and 500Nm of torque.
A big part of the GLE's appeal is the interior, and it's with good reason because it's luxurious inside. Material quality is very high and there are soft-touch surfaces all around the cabin. The XC90 has been around with only a few changes since 2015, and its interior is just a little less modern-looking than the GLE's, although quality is similar, so some will prefer the Swedish car's simpler, cleaner design.
Mercedes' latest infotainment system, MBUX, is what makes the GLE's interior look and feel so modern, and it's standard here. It features two 12.3-inch displays for the dials and infotainment, which means it has a very hi-tech feel, and it's good to use. Standard kit is great and includes 20-inch alloys, LED lights, two-zone climate control, heated seats, blind-spot assist and AEB. 
Driving
Both cars use four-cylinder diesel engines and are evenly matched, despite the Volvo's mild-hybrid tech. However, both four-pot engines tend to rattle as you rev them, and even a lot of soundproofing can't mask the grumble. Still, they only grate at higher engine speeds, and they work fine in day-to-day driving.
Partnership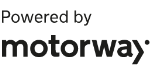 Need to sell your car?
Find your best offer from over 5,000+ dealers. It's that easy.
In our 0-60mph tests, the GLE managed a time of 7.4 seconds, which was 0.6 seconds ahead of the less powerful XC90, and the Merc was half a second faster from 30-70mph through the gears as well.
The Mercedes was also faster in most of our in-gear tests, because its smooth-shifting nine-speed gearbox uses slightly shorter ratios than the eight-speed box in the Volvo. For example, 50-70mph in sixth gear took 6.3 seconds in the GLE and 6.6 seconds in the XC90. Victory went to the Mercedes in our 30-50mph tests as well, and that's thanks to its healthy 500Nm of torque from just 1,600rpm. This means it's easy to drive in a relaxed way; you can rely on that big reserve of pulling power so you don't necessarily have to push the engine that hard, especially when cruising.
Our test car's air suspension did a good job of keeping lumps and bumps out of the cabin, but the GLE isn't as controlled or as comfortable as the XC90 on its air package. However, high-speed ride refinement and comfort are fine.
The steering weight is good. There's no feel, but that's to be expected; at least the steering makes it easy to manoeuvre, but it's not as precise as the XC90's at higher speed. The Mercedes is quieter than its rival, though, especially on the motorway. 
Practicality
The huge dimensions of these models mean there's loads of interior space; that's a big part of the appeal of these cars, after all. There's more than enough room in the second row for tall adults to sit comfortably, and there are lots of large storage spaces.
However, in seven-seat form, the GLE is compromised. If you need to carry extra passengers the XC90 is a better option, because there's more room in the third-row seats – and they're easier to get into. The GLE's rearmost seats are quite cramped and only small children will fit.
Still, the Mercedes has lots of boot space; with the third row folded, there's 630 litres available, which is easily big enough for a full family's suitcases. The Volvo is bigger still, at 680 litres. With all seven seats in use, the GLE's boot will take only 130 litres, while the XC90's can accommodate 302 litres.
Ownership
Owners ranked Mercedes a poor 26th place in our 2019 customer satisfaction survey. Volvo took a more respectable 13th, which shows the Swedish brand's cars are closer to matching buyers' expectations.
Euro NCAP recently tested the GLE and awarded it a full five stars, matching the XC90's score. The Volvo is among the safest cars on the road, but one area where the GLE beats it is that blind-spot assist is standard, yet it'll cost you £500 as part of the Intellisafe Surround pack on the XC90.
Autonomous braking with collision warning is standard on the Mercedes, while the £1,695 Driving Assistance package adds adaptive cruise and many other active safety systems. 
Running costs
The Volvo B5 (D)'s mild-hybrid tech meant it was more efficient on test. The GLE returned 31.9mpg, which equates to £2,256 a year in fuel costs, while the XC90 did 33.4mpg – that's £2,154 a year. It's not a huge difference, but the fact that the GLE will cost our example driver £901 a year to insure is a harder pill to swallow; they'll pay only £725 for the XC90.
Testers' notes: "Both models have a maximum towing capacity of 2,700kg, and it costs just over £1,000 to add a towbar in each. The Merc's £1,150 Towing package adds steering assist for reversing with a trailer."
Volvo XC90
| | |
| --- | --- |
| Model: | Volvo XC90 B5 (D) AWD Inscription |
| Price:  | £56,985 |
| Engine:  | 2.0-litre 4cyl diesel MHEV, 232bhp  |
| 0-60mph:  | 8.0 seconds |
| Test economy:  | 33.4mpg/7.3mpl  |
| CO2:  | 154g/km |
| Annual road tax:  | £465 |
The new Volvo XC90 B5 (D) is similar to the previous D5 model, but the change to a 'B' denotes an updated powertrain with mild-hybrid technology. Here we're testing the Inscription model (R-Design shown), which costs £56,985. 
Design & engineering
Volvo is pushing ahead with its promise to electrify all of its models. The key thing to note in this new B5 (D) model, though, is that its hybrid set-up is 'mild'. It can't be charged using a plug, nor can it run on electric power alone. Instead, this system recovers energy that would otherwise be lost under braking and then uses it to give a small boost to the engine through a 48V electrical system and a starter/generator, improving fuel economy by up to 15 per cent.
Despite the updates, the B5 offers the same 232bhp and 480Nm of torque as the old D5, but this is still 10bhp less than the GLE 300 d. The XC90 uses an eight-speed gearbox driving all four wheels.
The Inscription model we're testing here comes with steel springs as standard, but air suspension is available if you go for Inscription Pro or pay the £2,150 it costs as an individual option (it was fitted to our test car). This lets you change the ride height, while the various driving modes adjust the damping.
The interior is unchanged from the D5, but that's not a bad thing because the neat, clean design, with a large portrait touchscreen and high-quality materials, is one of the best around. The screen looks a little small in the huge dashboard when you put it next to the Mercedes with its huge twin screens, but the Volvo's elegant design scores it plenty of points.
Inscription models are well equipped as standard, with 20-inch alloys, heated Nappa leather seats, two-zone climate control, LED headlights, and that nine-inch touchscreen infotainment system with sat-nav, and a 12.3-inch digital dash.
Driving
The electric motor in most hybrid models is a big part of the driving experience, but the mild nature of the set-up here means you barely notice a difference. Even the re-worked brakes (to allow energy recovery) don't feel noticeably different to the D5's, and the engine's power delivery is very similar.
The four-cylinder engine produces 232bhp and 480Nm of torque (from 1,750rpm), so there's plenty of performance, even though the Volvo wasn't quite as fast as the GLE in our tests.
The XC90 took eight seconds to reach 60mph, which was 0.6 seconds behind its rival, but on the road both cars have plenty of pulling power to get you up to speed, even with seven people on board.
For example, 50-70mph in fifth gear took 5.5 seconds in both models here, which is more than quick enough and gives plenty of flexibility. The Volvo's engine sounds harsh at higher revs, but the soundproofing is good and most of the time the B5 unit is slightly more refined than the Mercedes' 300 d. There's more wind noise in the Volvo, though; it's a little louder than the Mercedes at motorway speeds.
The gearbox shifts smoothly and swiftly enough, while our car's Active Four-C Chassis air suspension delivers a reasonably smooth ride in Comfort mode, although those 20-inch alloys are noticeable. Switching to Dynamic stiffens it up, but the reduction in ride quality is greater than the increase in body control, so it's not worth it. The difference is small, but the Volvo is more comfortable than its rival here, helped by the supportive seats. It's good to drive, too, because the steering is slightly more precise than the GLE's and body control is acceptable given the XC90's size.
Practicality
All XC90s are seven-seaters as standard, and the Volvo is a bit more spacious than the GLE – especially in the third row. However, it's still not quite big enough for adults to sit comfortably. Short trips will be fine, but longer journeys will be more uncomfortable.
Access to the third row is achieved by climbing over the (manually folding) second row from either of the rear doors, because there's not enough room to get in via the hatch boot. It's the same in the GLE. Although the middle row folds electrically, the Volvo's slightly roomier interior and higher roof mean it's less awkward.
The XC90's best feature is its boot space, though. At 302 litres with all seven seats in place, it's able to take luggage along with a full load of passengers; the Mercedes is 172 litres down on the Volvo. Folding the seats down opens up 680 litres of boot space in the XC90, which is 50 litres more than its German rival, and with all the five rear seats folded there's a total of 1,856 litres available. The GLE beats the Volvo here, though, with 2,055 litres. 
Ownership
Volvo is known for its safety, and the brand has set a target of zero deaths in any of its cars by 2020. To reach that goal, the XC90 gets AEB, lane-keep assist, run-off-road mitigation and traffic-sign recognition. It's a shame that blind-spot assist isn't standard, but the £500 Intellisafe Surround is worth it and adds this, plus cross-traffic assist and rear collision mitigation. 
Running costs
While the Volvo's new B5 engine helped it return slightly higher fuel economy than the Merc, it doesn't make much difference to company car buyers.
It still sits in the maximum 37 per cent Benefit-in-Kind (BiK) category, resulting in a tax bill of £8,299 for higher-rate earners. The slightly lower list price means that's a bit less than the GLE's £8,358 bill, but a £320 surcharge for road tax results in a fairly hefty £465 annual VED bill for both.
Testers' notes: "The XC90 was more economical on test than the GLE, but it has a smaller fuel tank so the Mercedes can go an extra 82 miles on a single fill, with a cruising range of around 596 miles."
Verdict 
First place: Volvo XC90
The new mild-hybrid B5 engine in the XC90 hasn't made a big difference to its appeal, but the core package is still so impressive that it's the winner here. The XC90 is more spacious inside for both passenger space and boot room, while the cabin is luxurious and full of tech. Its powertrain delivers decent economy and performance, and it's better value than the GLE as well. 
Second place: Mercedes GLE
The updated GLE is closer to its rivals than ever, thanks to its superb infotainment and comfortable ride. The engine in this 300 d model is powerful, and even though it's not as roomy as the XC90, this is still a hugely practical car with a high-quality interior. It falls behind because it's not quite as good value as the Volvo, it doesn't drive as well and the rearmost seats are more cramped. 
Other options for similar money... 
New: BMW X5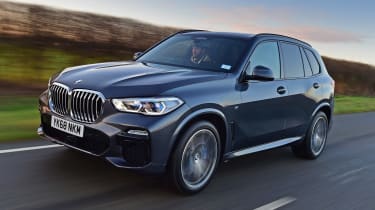 Model: BMW X5 xDrive30d xLinePrice: £57,640Engine: 3.0-litre 6cyl, 261bhp
Adding a third row of seats costs £1,390 on the BMW X5, so it's a little pricier than its rivals – but the car makes up for that. It has a six-cylinder engine, which is very smooth and quiet, and it's also more fun to drive than the GLE or XC90. It's comfortable, too.
Used: Land Rover Discovery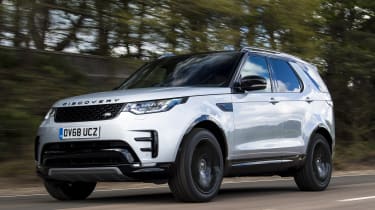 Model: Land Rover Discovery SDV6 HSEPrice: £55,990Engine: 3.0-litre V6, 302bhp 
The Land Rover Discovery is the best seven-seat SUV, because its third row of seats is impressively spacious. The Discovery is also supremely comfortable and unmatched off-road – and you can get one with delivery miles within budget.
Figures
| | | |
| --- | --- | --- |
|   | Volvo XC90 B5 (D) AWD Inscription | Mercedes GLE 300 d 4MATIC AMG Line 7-seat |
| On the road price/total as tested | £56,985/£56,985 | £57,380/£66,015 |
| Residual value (after 3yrs/36,000) | £29,849/52.4% | £30,515/53.2% |
| Depreciation | £27,136 | £26,865 |
| Annual tax liability std/higher rate | £4,150/£8,299 | £4,179/£8,358 |
| Annual fuel cost (12k/20k miles) | £2,154/£3,591 | £2,256/£3,759 |
| Ins. group/quote/VED | 37/£725/£465 | 44/£901/£465 |
| Cost of 1st/2nd/3rd service | £315/£460/£315 | £34pm (3yrs) |
|   |   |   |
| Length/wheelbase | 4,953/2,984mm | 4,930/2,995mm |
| Height/width | 1,776/2,008mm | 1,795/2,018mm |
| Engine | 4cyl in-line/1,969cc | 4cyl in-line/1,950cc |
| Peak power/revs  | 232/4,000 bhp/rpm | 242/4200 bhp/rpm |
| Peak torque/revs  | 480/1,750 Nm/rpm | 500/1,600 Nm/rpm |
| Transmission  | 8-spd auto/4wd | 9-spd auto/4wd |
| Fuel tank capacity/spare wheel | 71 litres/sp saver | 85 litres/repair kit |
| Boot capacity (7/5/2-seat modes) | 302/680/1,856 litres | 130/630/2,055 litres |
| Kerbweight/payload/towing weight | 2,103/668/2,700kg | 2,170/720/2,700kg |
| Turning circle | 11.9 metres | 12.0 metres |
| Basic warranty (miles)/recovery | 3yrs (60,000)/3yrs | 3yrs (unltd)/3yrs |
| Driver Power manufacturer/dealer pos | 13th/9th | 26th/13th |
| NCAP: Adult/child/ped./assist/stars | 97/87/72/100/5 | 91/90/78/78/5 |
|   |   |   |
| 0-60/30-70mph | 8.0/7.8secs | 7.4/7.3secs |
| 30-50mph in 3rd/4th | 3.4/4.2secs | 3.0/3.8secs |
| 50-70mph in 5th/6th/7th/8th | 5.5/6.6/9.3/13.0s | 5.5/6.3/8.2/10.6s |
| Top speed/rpm at 70mph  | 137mph/1,750pm | 140mph/1,600rpm |
| Braking 70-0/60-0/30-0mph  | 46.7/34.2/8.6m | 49.7/33.7/11.2m |
| Noise outside/idle/30/70mph | 73/44/61/71dB | 74/44/58/69dB |
| Auto Express economy/range | 33.4mpg/514 miles | 31.9mpg/596 miles |
| WLTP economy min-max | 37.7-44.1mpg | 33.6-39.2mpg |
| WLTP economy min-max | 8.3-9.7mpl | 7.4-8.6mpl |
| Actual/claimed CO2/tax bracket | 227/154g/km/37% | 237/162g/km/37% |
|   |   |   |
| Airbags/Isofix/park sensors/camera | Seven/yes/yes/yes | Seven/yes/yes/yes |
| Auto box/lane keep/blind spot/AEB  | Yes/yes/£500*/yes | Yes/yes/yes/yes |
| Climate/cruise/leather/heated seats | Yes/yes/yes/yes | Yes/yes/yes/yes |
| Metallic/LEDs/keyless go/pwr tailgate | £700/yes/yes/yes | £685/yes/yes/yes |
| Sat-nav/digi dash/DAB/connect serv | Yes/yes/yes/yes | Yes/yes/yes/yes |
| Wireless charge/CarPlay/Android Auto | No/£300/£300 | £1,995**/£495^/£495^ |