Bang & Olufsen BeoSound AMG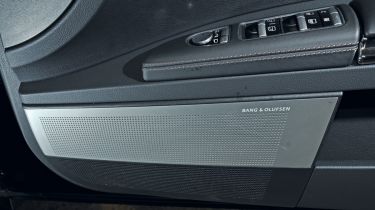 Beautifully designed and illuminated tweeters are the highlight here. They use B&O's Acoustic Lens Technology to spectacular effect, giving superb high-frequency sounds, crisp and clear vocals, and good separation across the cabin. But the bass is sometimes left to play catch-up and can sound comparatively flabby, especially on fast tracks.
The space-age tweeters are at odds with the ageing cabin design – as are the metallic-faced door speakers. The COMAND control system isn't the slickest, either. Preset buttons and a proper volume knob would be welcome, while we had trouble connecting our iPhone. The glovebox connector isn't ideal as it's awkward for the driver to connect and easy to forget your phone once it's in there.
Rating: 4/5
Price: £6,700
Output: 1,200w
Speakers: 15