MG HS vs Skoda Karoq
The new value-for-money MG HS looks to make a splash in the mid-size SUV market. We test it against the Skoda Karoq
MG is going from strength to strength. The brand might be best known for its sports cars in Britain, but under Chinese ownership it's re-invented itself as an SUV brand – and with some success, too.
Its small SUV, the ZS EV, offers great value, low running costs with plenty of kit, and now it's the turn of this HS family-sized model to go up against the best in its class. It's facing the Skoda Karoq, our yardstick for the mid-size mainstream SUV market, and with styling that evokes many of its competitor's designs it's an inoffensive SUV that has lots going for it.
The HS effectively replaces the lacklustre GS model that was on sale for around five years in the UK. The new car boasts more practicality and technology – which are two key elements in this class – so on paper it looks like a stronger contender. It's great value, too. At £22,995, the MG undercuts the Skoda, but where is your cash better placed?
MG HS
| | |
| --- | --- |
| Model: | MG HS 1.5T-GDI Exclusive |
| Price:  | £22,995 |
| Engine:  | 1.5-litre 4cyl turbo, 160bhp  |
| 0-60mph:  | 8.6 seconds |
| Test economy:  | 32.8mpg/7.2mpl  |
| CO2:  | 148g/km   |
| Annual road tax:  | £145 |
MG's trademark good value for money looks like it's still present here because this top-spec HS 1.5T-GDi in Exclusive trim costs just £22,995 with a manual gearbox, undercutting the base-spec Karoq.
Design & engineering
However, the MG's price advantage isn't quite as big as you might think; it's just £885 cheaper than the Skoda.
It comes incredibly well equipped for the cash, with satellite navigation, decent smartphone connectivity, heated leather seats and climate control. There is also MG's safety technology package, LED lights, parking sensors and a reversing camera, and climate and cruise control.
Quality is okay inside, too. Top-spec Exclusive models feature plenty of leather trim on the dashboard and doors, and the cabin feels like it's built well enough, even if there are some cheaper finishes, such as the shiny silver plastic on the storage tray lid in front of the gearlever.
The relatively sporty seats are supportive enough and are a nice touch in a conventional SUV like this, but the MG is no more comfortable or any better laid out inside than the Karoq  – but then the Skoda is a very solid entry in the class, so its test rival passes muster rather than wows in this respect.
A new platform has been adopted for the HS that uses MacPherson struts at the front and multi-link suspension at the rear. There's only one engine on offer: a 160bhp 1.5-litre four-cylinder turbocharged petrol unit that drives the front wheels through a six-speed manual gearbox.
While some modern turbo engines tend to have advanced technology, such as mild-hybrid electrical assistance or cylinder-deactivation to help boost efficiency, there's none of that here. The HS's engine features stop-start and that's about it.
Driving
The HS's on-road manners are more than just acceptable. The engine has enough grunt but does feel like it needs to be revved harder than the Skoda's motor to access that power, even though the MG was faster from 0-60mph in our test (by 0.6 seconds, at 8.6 seconds). It was faster in gear, too, despite both cars offering the same peak torque figure of 250Nm at the same point in the rev range: 1,500rpm.
Partnership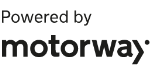 Need to sell your car?
Find your best offer from over 5,000+ dealers. It's that easy.
Keep the revs low and the MG's engine is quiet, but the 1.5-litre unit booms if you extend it.The six-speed manual gearbox is fine most of the time, too. The shift action is light and has just enough positivity, but there are some quirks that come up more frequently than we'd like. In our test car it was repeatedly difficult to select first gear when pulling away, which is a pain in traffic.
While the car feels softly sprung, it's quite nicely damped. This relaxed approach means over even bad surfaces the HS does a good job of absorbing ruts and controlling the body. However, it does get caught out over a series of imperfections in quick succession, whereas the Skoda is far more composed.
And the MG also doesn't handle as well as the Karoq. The steering is a good weight and is predictable in corners, but the car does roll and pitch a little too much when driving more quickly. However, this is a family SUV and the comfort on offer is decent. The set-up is a big step in the right direction for MG.
Practicality
A 463-litre boot with the rear seats up is okay, but nothing to write home about, especially when the Karoq packs 521 litres beneath its tailgate. The HS will accept a family's luggage fairly well, but SUVs are meant to offer more practicality than a family hatchback, and in terms of pure boot space, the MG isn't actually that far ahead of some larger family five-door hatches.
At least there's a good degree of room inside and it's high up, too, so strapping kids into their seats should be an easy task. Visibility is also a strong point, but that's the same with most SUVs.
The strong equipment list also helps boost the MG's usability, with parking sensors and a reversing camera included in the specification.
Ownership
Exclusive trim features MG's Pilot Advanced Driver Assistance System as standard. This includes autonomous braking with pedestrian detection, lane-keep assist and lane-departure warning, blind-spot detection, rear cross-traffic alert and auto high beam for the LED lights, so it's no surprise the model scored a five-star Euro NCAP rating when it was tested last year.
The warranty package is strong, too, with seven years' unlimited mileage cover. However, despite this, the brand's reputation overall with customers wasn't too good, because they ranked MG the 27th best brand out of 30 manufacturers in our Driver Power 2019 customer satisfaction survey.
Running costs
One area where the MG really loses out to the Skoda is in terms of efficiency. It emits 148g/km of CO2, which puts it in the 33 per cent Benefit-in-Kind (BiK) tax bracket compared with the 118g/km Karoq, which sits three percentage points below it.
So, despite the MG's affordable price tag, it'll be the costlier car to run for business users. Lower-rate income tax payers will have to shell out £1,500 a year in contributions for the HS and £1,419 for the Karoq.
This lack of efficiency showed in our fuel economy evaluation, too, with the MG only managing 32.8mpg during the test, compared with 38.9mpg for the Karoq, which means the Skoda will be £327 cheaper at the pumps a year. The Czech model will cost a total of £1,760 in petrol over 12,000 miles.
Testers' notes: "Exclusive trim features LED ambient cabin lighting, but if you want a usable SUV and good value is a must, then consider one of the lower trim levels. They don't sacrifice much kit and are even more affordable."
Skoda Karoq
| | |
| --- | --- |
| Model: | Skoda Karoq 1.5 TSI ACT SE |
| Price:  | £23,880 |
| Engine:  | 1.5-litre 4cyl turbo, 148bhp  |
| 0-60mph:  | 9.2 seconds |
| Test economy:  | 38.9mpg/8.6mpl  |
| CO2:  | 118g/km |
| Annual road tax:  | £145 |
Matching the top-spec MG on price is an entry-level Karoq SE (our pictures show a higher-spec Edition model), which comes in at £23,880 with the 1.5-litre TSI engine and six-speed manual gearbox. But there's more to this test than a simple analysis of the figures, as we'll see.
Design & engineering
For a start, while the Skoda might be £880 more expensive than the MG, there isn't too much difference in the level of core kit. The Skoda gets an eight-inch touchscreen with Apple CarPlay and Android Auto, for example, providing owners with sat-nav through their device. Parking sensors are included, as are cruise control and some key safety tech, while you get DAB radio, too.
However, it is true that the Karoq in SE trim does without some of the MG's more premium features, such as LED lights, a reversing camera, heated leather seats and keyless operation, but you can add all these features as options on the Skoda if you want them, even if it will push the price up.
LED headlights are £1,225, a reversing camera is £310 (and not bad value), heated seats are £205 (again, not bad value, but £1,400 if you want them in leather), while keyless operation costs £435.
Despite the Skoda lacking these features the cabin matches up, with even better build and material quality than the MG. The ergonomics are also fundamentally better, with more – and more better-placed – storage and a nicer driving position.
The Karoq also gives away power to the MG. The Skoda's 1.5-litre four-cylinder turbo engine produces 148bhp but the same 250Nm peak torque at the same 2,500rpm. There's a six-speed manual driving the front wheels, too, with a dual-clutch automatic available, as with the MG. Neither is offered with four-wheel drive in these engine and trim combos.
There's also a good level of efficiency-boosting tech; the Skoda's engine has cylinder-deactivation that can shut down two of the four chambers on the move under light load to help cut fuel consumption. It does it more often than you might expect – the little 'eco' display on the dash is the only real way to tell, because the changeover is almost imperceptible.
Driving
It's no slight on the MG, but in pretty much every way the Karoq outscores it. While it might have been slower from 0-60mph and lagged behind over some of our in-gear acceleration tests (it was a few tenths slower between 30 and 50mph in third and fourth, but actually quicker by more than a second between 50 and 70mph in top) the engine's flexibility is more than adequate. It's also smoother and more refined, particularly at high revs, where the MG sounds coarse.
The gearshift is lighter and more precise than the MG's six-speeder, but it's not an obvious weak point in the HS anyway, while the Skoda's steering is lighter and more precise, and there's more grip on offer from the chassis, too.
That's because the Karoq's body control is more resolute, whereas the HS doesn't keep its composure for quite as long. The Skoda feels a little firmer over washboard surfaces, but there's still a nice, silky motion to the way the suspension soaks up bumps, which, even on bigger wheels, makes the Karoq the more comfortable car and the better machine to drive out of this pair of family SUVs.
Practicality
The Karoq is also more practical. Room inside the rear is roughly equal, but the Skoda's larger boot means it's easier to load and can swallow more kit. This could be important if you're part of a growing family and have to ferry around all the paraphernalia that comes with it.
You can add Skoda's clever VarioFlex seating that brings a sliding bench to prioritise either passenger space or luggage room depending on your needs, but it's part of the pack that brings leather upholstery, too, so costs £1,440 and isn't all that necessary.
Ownership
Skoda's results in our Driver Power ownership satisfaction survey were the inverse of MG's, because the Czech brand was a hit with buyers, taking fifth place in the table out of 30 brands in the 2019 edition.
However, Skoda's franchises finished 10th in the dealers' chart, while MG performed more strongly, coming in seventh out of 31 manufacturers. Overall, Skoda just edges it, even if its three-year warranty package isn't quite as attractive as MG's; this might matter less if you're buying on finance though.
The Karoq's safety technology is nowhere near as extensive as the HS's. Autonomous emergency braking is standard, but if you want blind-spot warning and lane-assist they're part of a £930 pack that could be worth paying for. At least the Karoq gets seven airbags as standard and a five-star Euro NCAP safety rating to match the HS.
Running costs
Skoda is a brilliant example of how a brand's image has changed over decades. Our experts reckon the Karoq will hold on to 10 per cent more when it comes to used values, at 51.3 per cent over three years or 36,000 miles, compared with 41.3 per cent on the MG. This equates to depreciation of £11,630 and £13,496 for the Karoq and HS respectively, which means used values of £12,250 for the Skoda and £9,499 for the MG over the same period and mileage.
Vehicle Excise Duty costs £145 on both models and insurance will cost our sample driver £499 a year on the Karoq and £541 on the HS.  The Skoda was more economical on test and is cheaper to tax for company car drivers, so it costs less to run overall.
Testers' notes: "Skoda has confirmed its upcoming all-electric SUV will be called Enyaq, so if you're considering an EV, hang on. Expect a plug-in 'iV' Kodiaq soon, along the same lines as the Skoda Superb iV PHEV."
Verdict
First place: Skoda Karoq
The Karoq still reigns supreme in the family SUV sector. While it's a little pricier than the MG and doesn't get anywhere near as much kit, it's still the better machine due to its higher-quality and roomier cabin. The slight disadvantage in performance is not enough to really matter, but the Karoq's extra practicality, flexibility, dynamism and comfort are. It'll be much cheaper to run, too.
Second place: MG HS
The HS shows MG has made some decent improvements with its tech and set-up, to the point where you'd now even consider it in the same group as cars like a Nissan Qashqai, given its value for money. Yet compared with the Skoda it's lacking in a few key areas, although they certainly don't include price and kit. We're looking forward to seeing an EV version, if the smaller ZS EV is anything to go by.
Is it worth waiting for this model?
Ford Kuga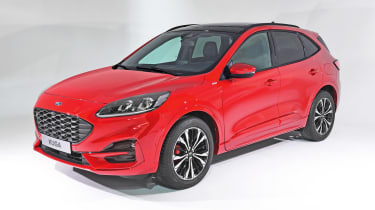 On sale: Now
Price: From £23,995
Ford has refreshed its Kuga family SUV with a sleeker-looking car that features mild-hybrid tech. At this price you'll be looking at a Zetec, but if Ford's smaller Puma is anything to go by, the Kuga should drive well.
Figures
| | | |
| --- | --- | --- |
|   | Skoda Karoq 1.5 TSI ACT SE | MG HS 1.5T-GDI Exclusive |
| On the road price/total as tested | £23,880/£23,880 | £22,995/£23,540 |
| Residual value (after 3yrs/36,000) | £12,250/51.3% | £9,499/41.3% |
| Depreciation | £11,630 | £13,496 |
| Annual tax liability std/higher rate | £1,419/£2,837 | £1,500/£3,000 |
| Annual fuel cost (12k/20k miles) | £1,760/£2,933 | £2,087/£3,479 |
| Insurane group/quote/VED | 14/£499/£145 | 18/£541/£145 |
| Cost of 1st/2nd/3rd service | £342 (2 years) | N/A |
|   |   |   |
| Length/wheelbase | 4,382/2,638mm | 4,574/2,720mm |
| Height/width | 1,603/1,841mm | 1,664/1,876mm |
| Engine | 4cyl in-line/1,498cc | 4cyl in-line/1,490cc |
| Peak power/revs  | 148/5,000 bhp/rpm | 160/5,500 bhp/rpm |
| Peak torque/revs  | 250/1,500 Nm/rpm | 250/1,500 Nm/rpm |
| Transmission  | 6-speed man/fwd | 6-speed man/fwd |
| Fuel tank capacity/spare wheel | 50 litres/£150 | 55 litres/repair kit |
| Boot capacity (seats up/down) | 521/1,630 litres | 463/1,454 litres |
| Kerbweight/payload/towing weight | 1,3805/628/1,700kg | 1,539/462/1,750kg |
| Turning circle | 10.2 metres | TBC |
| Basic warranty (miles)/recovery | 3yrs (60,000)/3yrs | 7yrs (unlimited)/1yr |
| Driver Power manufacturer/dealer pos. | 5th/10th | 27th/7th |
| NCAP: Adult/child/ped./assist/stars | 93/79/73/58/5 (2017) | 92/81/64/76/5 (2019) |
|   |   |   |
| 0-60/30-70mph | 9.2/12.2 secs | 8.6/8.6 secs |
| 30-50mph in 3rd/4th | 4.6/6.1 secs | 4.2/5.9 secs |
| 50-70mph in 5th/6th/7th/8th | 8.7/11.0 secs | 8.1/12.5 secs |
| Top speed/rpm at 70mph  | 126mph/2,250rpm | 118mph/2,400rpm |
| Braking 70-0/60-0/30-0mph  | 48.0/35.0/9.1m | 48.1/34.6/10.1m |
| Auto Express econ. (mpg/mpl)/range | 38.9/8.6/428 miles | 32.8/7.2/397 miles |
| WLTP combined  | 39.2-44.8mpg | 37.2mpg |
| WLTP combined  | 8.6-9.9mpl | 8.2mpl |
| Actual/claimed CO2/tax bracket | 168/118g/km/30% | 199/148g/km/33% |
|   |   |   |
| Airbags/Isofix/parking sensors/cam | Seven/yes/yes/£310 | Six/yes/yes/yes |
| Auto box/lane-keep/blind spot/AEB | £1,300/£930*/£930*/y | £1,500/yes/yes/yes |
| Clim./cruise ctrl/leather/heated seats | Yes/y/£1,400*/£205 | Yes/yes/yes/yes |
| Met paint/LEDs/keyless/pwr tailgate | £595/£1,225/£435/£510 | £545/yes/yes/no |
| Nav/digi dash/DAB/connected services | £750/no/yes/yes | Yes/no/yes/yes |
| Wireless charge/CarPlay/Android Auto | No/yes/yes | No/yes/yes |