Deal of the Day: MG's ZS is a family-size SUV for just £129 per month
The brand-new MG ZS SUV delivers major practicality for supermini money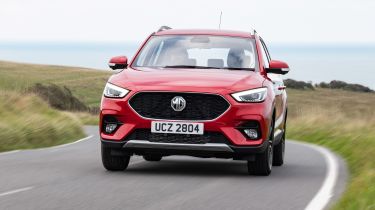 Well-equipped
0 per cent APR
£129 per month
MG is on a roll right now which should be no surprise given its excellent and affordable current crop of cars. The MG ZS is the smallest SUV the British brand makes but still offers decent practicality and interior quality. Now, you can get one on your drive for just £129 per month on a two-year personal contract purchase with zero per cent APR deal straight from MG.
The finance deal requires an initial payment of £6,386, but as this is a PCP deal, MG offers three options when the deal is over. You can part exchange the vehicle where equity is available, pay the optional final payment of £10,837 or just return the vehicle. There's a pretty good mileage limit of 8,000 per year as well. 
This ZS comes with the 1.5-litre four-cylinder VTI engine and a manual gearbox. The ZS might not be the best handling SUV out there but with a muted engine noise it's refined and comfortable, fuel efficiency isn't too shabby at 42.7mpg either. 
As the range-topping Exclusive trim level, it's fitted with a 360-degree parking camera, sat-nav, 'leather-style' upholstery, heated front seats, an uprated sound system and a 10.1-inch touchscreen. 
As always with our Deal of the Day selections, prices and offers are subject to change, while terms and conditions apply. Our experts keep a keen eye on the market, searching for the best deals on cars that we're happy to recommend, choosing only the ones that we think offer the best value for money.
You can get the MG ZS deal direct from MG here or take a look at our most recent Deal of the Day…