"Whether you like BMW owning MINI or not, the German company has done brilliant things"
Auto Express editor-in-chief Steve Fowler says that modern MINIs are a natural evolution from the classic 1950s design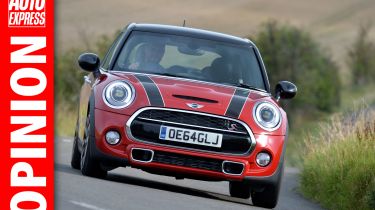 While testing the new 5-door MINI around the wonderful roads of Oxfordshire, I came across a guy with an obvious interest in the brand – or at least what it used to be...
"It's not a proper MINI, is it?" he asked me. I wanted to suggest we take a trip down the road to the MINI factory in Oxford and he could ask the same question to one of the brilliant workers who built the five-door car I was with. Their answer would be the same as mine was – of course it is.
Think of it this way: if the original Mini was built by a company that had the wherewithal and finances to continually develop it, 911-style, as it should've been, I suspect it would be a very similar car – and model range – to what it is today. Whether you like BMW owning MINI or not, the German company has done brilliant things with the brand, and will continue to do so.
As well as driving the new five-door and giving it a tough workout against a bigger, more powerful and more expensive VW Golf GTI, this week we also reported the news that a mini MINI – previewed by the 2011 Rocketman concept – is back on the agenda. I must admit, MINI's decision not to push on with development always seemed strange to me, but now the car could be about to be reinvented using more traditional (cheaper) materials, but with the same amount of style, quality, fun and technology as the rest of the range.
Closely related to the MINI is the BMW 2 Series Active Tourer, using the same platform and engines as the Brit. Again, some BMW fans will moan about the company making a front-wheel-drive MPV, but it's BMW's knowledge of what customers want – across all its brands – that makes it so successful.
What do you think of the modern MINI range? Let us know in the comments below, on Twitter or on Facebook.