Pick-up of the Year 2017: Mitsubishi L200
The Mitsubishi L200 is the 2017 Auto Express Pick-up of the Year, with the Fiat Fullback and Nissan Navara commended
We're in the midst of a pick-up truck boom, with newcomers from Fiat, Isuzu and Volkswagen being launched in the past 12 months. However, it's still the Mitsubishi L200 that ticks all the right boxes, and so it takes our award for the third year running.
With its powerful diesel, a long list of standard kit on the majority of models, and relatively tidy, car-like handling, the L200 is the best package currently on offer in the sector – and at an affordable price. In many ways its range of talents means it's worth considering over many SUVs, especially if you are looking at a 4x4 as a company car.
Fixed-rate Benefit In Kind tax means the Mitsubishi could cut your outgoings when compared with an SUV at a similar price and level of emissions, and you won't be penalised by an agricultural driving experience, either.
Go for a Warrior or higher, and you get luxuries such as heated leather seats, sat-nav, reversing camera and xenon lights. The recently launched Barbarian SVP gets a more menacing look, with gloss-black trim and black wheels, while it wears a set of knobbly BF Goodrich tyres to boost its off-road ability.
Mitsubishi is an expert when it comes to the rough stuff, and the L200 features Super Select 4WD that eliminates the need for extra levers in the cabin to swap between drive modes. Simply turn the rotary selector on the centre console to your desired setting, and the electronics do the rest. There's 2WD for on-road efficiency, plus 4WD and a lock function, while the low-range setting should get the pick-up out of most situations.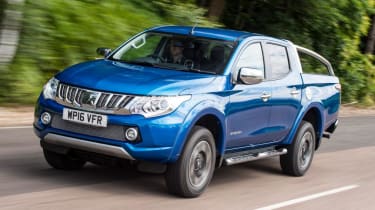 The L200's extensive talents mean it'll take some beating. But with yet more pick-ups on the horizon, including new models from Renault and Mercedes, it remains to be seen whether Mitsubishi can retain the crown again in 2018. 
Our choice
Mitsubishi L200 2.4 Double Cab Warrior manual (£28,859 incl. VAT)
All L200s get the same 2.4-litre diesel, so your choice boils down to how much kit you want. The 4Life is designed with work in mind, while the Barbarian and SVP models feature plenty of trinkets to boost their appeal. The Warrior is nearly as well equipped and costs that little bit less, so it's the one to go for. 
Commended
Ford Ranger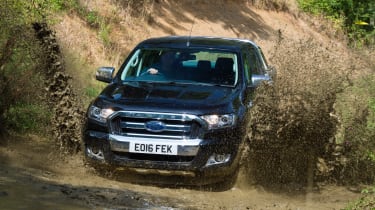 Ford's pick-up offers a slightly different take on things to the Mitsubishi (and its Fiat Fullback twin), especially with a more civilised and car-like cabin. Economy figures are a little way off the Mitsubishi's, yet it still delivers when it comes to carrying and towing capacities.
Nissan Navara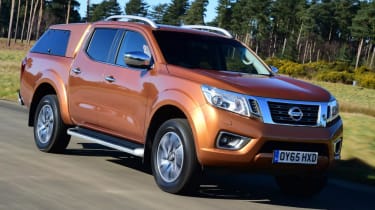 The Navara is a close rival for the L200, and that's why it earns a commendation for the second year running. Independent rear suspension is an innovation that's unique in the pick-up class, while a raft of standard kit on every model means business users should seriously consider the Nissan over a conventional SUV.
Auto Express New Car Awards 2017
For complete, in-depth coverage of the 2017 New Car Awards, buy your collector's edition copy of the Auto Express magazine now or click here to subscribe...