Large Premium SUV of the Year 2017: Land Rover Discovery
The Land Rover Discovery is the 2017 Auto Express Large Premium SUV of the Year, with the Tesla Model X and Volvo XC90 commended
Land Rover evolved the Discovery for this all-new fifth-generation model, taking the iconic seven-seat SUV even further upmarket by adding more tech, refinement, practicality and efficiency.
This British success story arguably marks one of the biggest steps in the Disco's 28-year history. Not only has the styling moved on dramatically to give the car a much more modern look, while retaining some typical Discovery characteristics such as the stepped roof and clamshell bonnet, but you can now get the model with a 237bhp twin-turbo version of Land Rover's 2.0-litre four-cylinder Ingenium diesel engine. This makes the Land Rover more efficient than ever, thanks in part to a new monocoque chassis that uses plenty of aluminium to shave up to 480kg off the old car's kerbweight.
Slashing bulk has reduced emissions, too, so the four-cylinder diesel has a respectable 171g/km CO2 figure. Yet the Discovery still pulls well and offers plenty of refinement, with a diesel growl only evident on full throttle at higher revs. With an identical 3,500kg towing limit to the V6 diesel, you don't lose much in the way of versatility, either.
Taking mass out has allowed Land Rover to put plenty of tech in, so the Discovery comes loaded with advanced features. The rear seats fold remotely using the brand's Intelligent Seat Fold tech as part of its smartphone app, or by using the 10-inch touchscreen, and kit such as Trailer Assist helps you reverse when hitched up. A WiFi hotspot, USB charging points for all occupants and the ability to sync your Apple Watch with the car highlight the tech on offer.
The firm's Terrain Response 2 system means the Discovery is also imperious off-road, as any Land Rover should be. However, it's the refinement, relaxing, floating ride and luxury on offer that really grab you.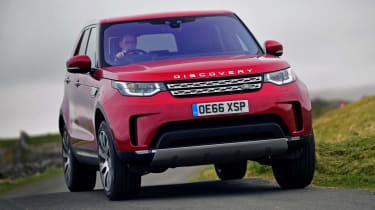 The car now offers Range Rover quality with even more tech at a more affordable price. Factor in the superior practicality compared with its rivals, and the Discovery offers the best blend of high-end feel and usability in the most convincing package in its class.
Our choice
Land Rover Discovery Sd4 HSE (£57,495)
HSE spec is the best balance of kit and cost. With the luxurious feel you'd expect from a high-end SUV and the robust quality Land Rover has become famous for, the Discovery's breadth of ability is incredible. It's a great family car that offers refinement, technology and space. It moves the game on another step.
Commended
Tesla Model X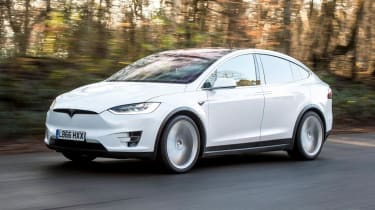 With its gullwing rear doors, brilliant infotainment and stunning performance given its size, the all-electric Tesla Model X offers a different take on the luxury large SUV formula. Genuinely usable range and the improving charging infrastructure make this car a viable alternative to a conventional luxury SUV.
Volvo XC90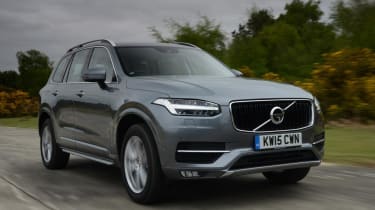 As a former Auto Express Car of the Year, the XC90 earns a worthy mention thanks to its individual approach. It's a great seven-seat SUV that offers premium appeal, practicality and a relatively involving drive. This is the car that announced a new era for Volvo.
Auto Express New Car Awards 2017
For complete, in-depth coverage of the 2017 New Car Awards, buy your collector's edition copy of the Auto Express magazine now or click here to subscribe...