Estate Car of the Year 2017: Skoda Octavia Estate
The Skoda Octavia Estate is the 2017 Auto Express Estate Car of the Year, with the BMW 5 Series Touring and Skoda Superb Estate commended
The regular Skoda Octavia is already the most practical car in its class, so it's little surprise to see that the Octavia Estate is our pick if you're in the market for a proper load-lugger.
Revised only this year, with refreshed front-end styling and improved infotainment, the Octavia Estate continues to offer enormous load capacity. In fact, it has 610 litres of space with the rear seats in place, and a massive 1,740 litres if you fold them down. That's more than enough for this car's load bay to embarrass those of plenty of models from the class above.
The Skoda is so much more than a big box on wheels, though, as the rest of the package is equally strong. Nearly all models in the range get a decent line-up of standard kit, and you can choose from punchy four-cylinder petrol engines or, for those who do big-mileage drives with heavy loads, efficient and torquey diesels. If an auto gearbox would better suit your needs, the DSG dual-clutch auto is one of the best in the business, swapping ratios smoothly and swiftly, while the cheaper manual is easy to use and surprisingly involving.
On the road, the Octavia impresses with its composure, staying surefooted over Britain's pock-marked tarmac and offering strong levels of comfort on long journeys or a motorway cruise. The new infotainment is right up there in the class, too, with strong smartphone connectivity and a crisp screen that makes living with the car even easier.
The final piece in the jigsaw is pricing – and decent residual values mean the Octavia is frequently available on appealing monthly finance deals. Get one of these at the right price and you'll be bagging not only the best family estate car on the market, but also a bit of a bargain.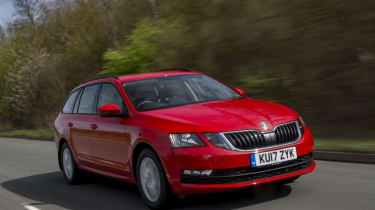 Our choice
Skoda Octavia Estate 2.0 TDI 150 SE L (£24,565)
Assuming that you're buying an estate car because you actually want to make use of the load bay, you're going to need some low-down shove in order to cope with proper loads. That's why our pick of the Octavia line-up is the 2.0 TDI 150. It has enough torque to cope with a boot full of luggage, while SE L spec brings all the equipment you should need on an everyday basis, too.
Commended
BMW 5 Series Touring
The way BMW's 5 Series Touring combines cutting-edge tech, near-limousine levels of comfort, quality and practicality is deeply impressive. All cars get an eight-speed auto, and the engine line-up ranges from the efficient, more affordable 520d diesel to the pacey 540i petrol, with xDrive 4WD available on some models, so there's plenty of choice.
Skoda Superb Estate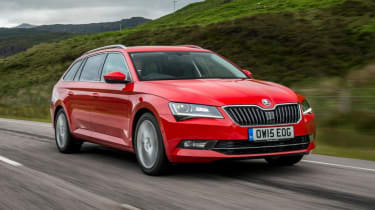 It's a sign of how competitive the Octavia is that its bigger brother is 'merely' a runner-up in a class where size really matters. However, Skoda's Superb Estate is another incredibly impressive load-lugger; indeed, if you really do need to maximise absolute load space, the Czech brand's flagship wagon should be all the car you'll ever need.
Auto Express New Car Awards 2017
For complete, in-depth coverage of the 2017 New Car Awards, buy your collector's edition copy of the Auto Express magazine now or click here to subscribe...