Small SUV of the Year 2017: Citroen C4 Cactus
The Citroen C4 Cactus is the 2017 Auto Express Small SUV of the Year, with the Dacia Duster and Peugeot 2008 commended
Instead of playing it safe with the design of its small SUV, Citroen took a gamble with the C4 Cactus, and it paid off. It entered a crowded market in 2014 with a car offering quirky looks and a sense of fun missing from so many rivals, and in our view the model is still the best small SUV you can buy today.
Citroen has resisted the temptation to give the C4 Cactus a hard ride in a bid to make it feel sporty, and while none of its rivals is likely to set your hair on fire in corners, none is as comfortable as the Citroen on rough British roads, either. These features give the car a genuine link to classic Citroens, and as with those iconic models the Cactus offers plenty of individuality and comfort at an affordable price.
But it doesn't just look back – the range of small-capacity engines, the funky interior and the lightweight design are evidence of Citroen's forward thinking as well. The Airbumps on the sides of the car are a cool design feature, but they also have a practical purpose, protecting the paint on the doors from dings in car parks.
With a line-up of economical and punchy three-cylinder PureTech petrol engines, the Cactus is an efficient car to run, while Citroen offers diesel variants, too. That's key for those owners covering longer journeys, because the most efficient version claims 91.1mpg fuel economy and CO2 emissions of 82g/km.
Every version of the C4 Cactus comes generously equipped, with a seven-inch touchscreen and DAB radio featuring as standard. The interior design is also much more interesting than many of its rivals', and uses relatively high-quality materials. This is a small car but it feels airy inside, and there's actually plenty of room in the back as well.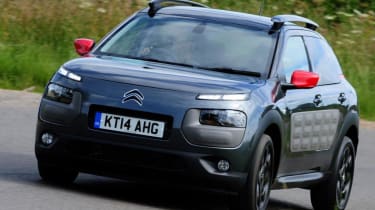 In addition, the 358-litre boot capacity means the Cactus is competitive on luggage space despite being one of the more compact small SUVs on sale.
Our choice
Citroen C4 Cactus PureTech 110 S&S manual Feel (£17,205)
Our pick of the C4 Cactus range is the 108bhp three-cylinder petrol turbo. The engine is fun to use, with a tuneful thrum and enough go. It's also economical, claiming 65.7mpg economy and emitting 100g/km of CO2. Feel trim brings split-folding rear seats, as well as air-conditioning, Bluetooth and 16-inch alloy wheels as standard.
Commended
Dacia Duster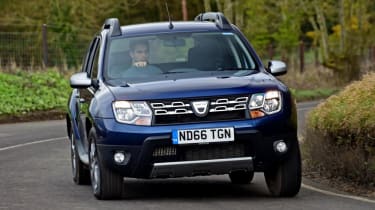 The Dacia Duster has been one of our favourite SUVs since it launched in 2012, and, thanks to its bargain price, remains a top pick. As the cost of small SUVs continues to rise, the Duster looks better value than ever. It's spacious, rugged and comfortable, and allows buyers to get their hands on an affordable new SUV.
Peugeot 2008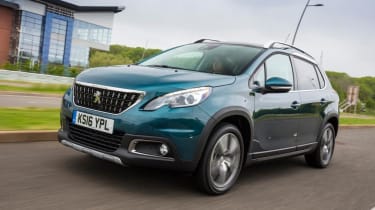 The 2008 is stylish, cheap to run and has lots of kit, while the practical interior and solid engine range cement its position among our favourite small SUVs. Clever Grip Control tech means it can handle off-roading without needing a heavy 4x4 system, which helps the engine return decent economy. A stylish cabin completes a well rounded car.
Auto Express New Car Awards 2017
For complete, in-depth coverage of the 2017 New Car Awards, buy your collector's edition copy of the Auto Express magazine now or click here to subscribe...