Compact Family Car of the Year 2017: Volkswagen Golf
The Volkswagen Golf is the 2017 Auto Express Compact Family Car of the Year, with the Skoda Octavia and Vauxhall Astra commended
The evergreen Golf is back with a bang. After giving best to the Vauxhall Astra and its close cousin, the SEAT Leon, the refreshed and revitalised VW has battled its way to the top of this fiercely fought class.
This success hasn't been achieved with one major change, but a host of small, perfectly targeted tweaks for this Mk7.5 model that address the previous Golf's few weaknesses. Upgraded engines, a new infotainment system and revised trim levels all feature, as does added safety kit.
Yet the core of the car remains unchanged, so it still sets the standard for comfort, refinement and upmarket appeal. It's practical, too, with more than enough space for most families, plus numerous thoughtful touches that make living with the Golf so easy.
VW has left the styling largely unchanged, so you get the same elegantly proportioned and neatly detailed hatchback that effortlessly fits into any surroundings.
It's a similar story inside, where premium materials, solid build quality and a logical layout instantly make you feel right at home. A real highlight is the new eight-inch infotainment system, with its crisp graphics, intuitive menus and excellent smartphone connectivity.
On the move the Golf delivers a compelling blend of comfort, refinement and driver engagement, while the revised engines offer a strong mix of performance and refinement. Pick of the bunch is the new 108bhp 1.0-litre three-cylinder petrol. Smooth, eager and capable of nearly 60mpg, it makes the diesels largely redundant.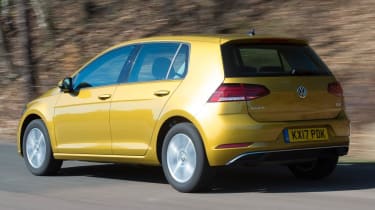 If that doesn't float your boat, don't worry because there's a Golf for every taste and budget. Eco-friendly motorists can choose the all-electric e-Golf or the racy plug-in hybrid GTE, while those who need some high-octane thrills can plump for the GTI or flagship R.
Over 40 years in the making, the perfectly evolved Golf retains its place at the top of the family hatch tree.
Our choice
Volkswagen Golf 1.0 TSI SE Nav 5dr (£20,260)
Simple is best with the Golf, so unless you need the ultimate in performance or kit, then SE Nav models cover all the bases. Adaptive cruise control, sat-nav, an excellent infotainment system and a raft of safety systems feature, while the 1.0 TSI effortlessly mixes pace and efficiency.
Commended
Skoda Octavia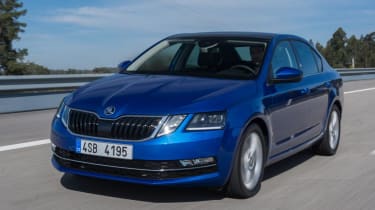 Underpinned by the same mechanicals as the Golf but dressed in more practical clothes, the Octavia makes plenty of sense. It's not as glamorous, well equipped or refined as its award-winning cousin, but top-value pricing and a vast boot make the Skoda a sensible choice for buyers wanting their money to go further.
Vauxhall Astra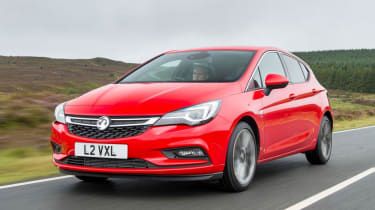 Last year's winner has slipped off the top spot, but the Astra remains a compelling compact hatchback choice. Few rivals have a better ride and handling balance, while Vauxhall's OnStar concierge service and 4G mobile Internet connection is unique in this class, and a valuable addition.
Auto Express New Car Awards 2017
For complete, in-depth coverage of the 2017 New Car Awards, buy your collector's edition copy of the Auto Express magazine now or click here to subscribe...