Roadster of the Year 2017: Mazda MX-5 RF
The Mazda MX-5 RF is the 2017 Auto Express Roadster of the Year, with the Fiat 124 Spider and Porsche 718 Boxster commended
Mazda has perfected the roadster formula with the new MX-5, and the latest 'Retractable Fastback' version that joined the range this year adds an extra touch of versatility by offering buyers even more choice. All of the iconic two-seater's best features remain, but the RF's folding hard-top means it's refined and comfortable when the weather's less than perfect.
The soft-top MX-5's sharp looks have been enhanced by the RF's buttresses and elegant folding roof. Its striking front end is unchanged, but the RF boasts a classier look and is even more distinctive with the top up or down. Speaking of which, the electrically operated roof folds in 13 seconds. With it down the RF delivers a deliciously addictive sense of fun, with the wind in your hair and a fantastic powertrain and chassis underneath you.
Both the 1.5 and 2.0-litre petrol engines are naturally aspirated, which means they are responsive and fun to rev. They're linked to a sweet six-speed manual box that's a joy to use and is often considered a benchmark for great shift feel in any class of car. It's so rewarding, it makes driving the Mazda fun at any time.
The RF is a bit heavier than the soft-top, but the MX-5 still feels lightweight and agile thanks to its retuned suspension. It's not a stiff set-up, though, and it allows some roll in corners. Yet this doesn't take away from the fun, as the sweet steering and rear-wheel-drive handling mean it's fantastic on a fast road and doesn't feel uncomfortable on a bumpy one.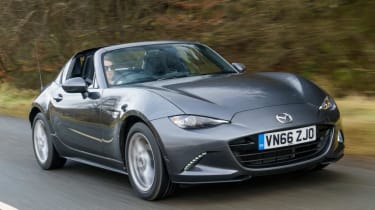 The RF is more expensive than the still brilliant-value soft-top, which offers just as much fun and engagement. However, thanks to high-quality cabin materials, classy looks and an exotic roof-folding mechanism, the RF still looks like a great buy. There's little that comes close to the MX-5 for pure driving fun at this price, let alone something that's as usable every day.
Our choice
Mazda MX-5 RF 2.0 SE-L Nav (£23,395)
While we reckon the 1.5-litre is a sweeter engine, it's the 158bhp 2.0 car that we'd go for in the RF. The hard-top is a bit heavier than the soft-top and warrants the extra power, and it's not much more expensive to buy in the first place. Both motors would be a top choice, though – they're much more responsive than the turbo units found in most modern cars.
Commended
Fiat 124 Spider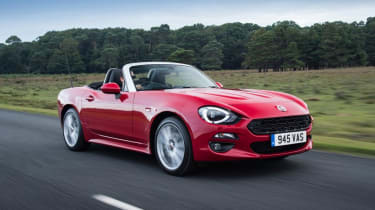 If the MX-5's looks don't do it for you, Fiat's 124 Spider might. This soft-top-only model delivers a similar drive to the Mazda on which it's based. It's more flexible, thanks to a 1.4-litre turbo that means you needn't change gear as often, and the suspension is also more compliant.
Porsche 718 Boxster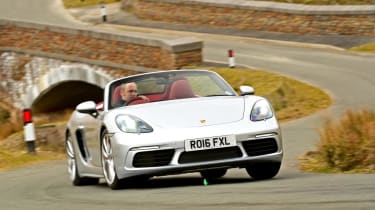 The Boxster offers even more driving thrills than our winner, but you'll need more cash to buy one. Its handsome looks, premium cabin and Porsche badge give plenty of showroom appeal, yet it's the mid-engined handling that really sets our pulses racing – even if the new four-cylinder turbos don't.
Auto Express New Car Awards 2017
For complete, in-depth coverage of the 2017 New Car Awards, buy your collector's edition copy of the Auto Express magazine now or click here to subscribe...