Long-term test review: Mitsubishi Outlander PHEV
Final report: we say goodbye to efficient, but noisy, plug-in hybrid
Mileage: 10,135Fuel economy: 54mpg
The serenity and silence of driving an electric car has been one of the highlights of my six months with the Mitsubishi Outlander PHEV, but it's not always been a peaceful time. In fact, with so many safety systems and various other functions, it can often be noisier than driving a standard car.
First off, there's the lane departure warning system, which emits an ear- piercing beep every time you change lanes without indicating. I understand the safety benefits, but I tend to turn the set-up off because I find the warning noise so irritating.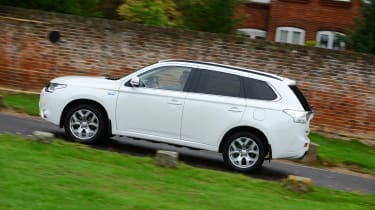 Then there's the Forward Collision Mitigation system, acting as a warning to the driver to brake when it detects vehicles or objects in front of the car. Again, this is great for safety, but it seems overly sensitive. Driving through London with its stop-start traffic and cyclists weaving in and out between cars, I've found the system can go off four or five times on every journey with a loud alert and flashing screen warning me to 'BRAKE'.
Noisy
That's not all, though, because there are beeps and bongs if you get out of the car when it's still running, or when you open the automatic boot with the engine on – even when you open it with the ignition off it still pipes up.
These noises have been a consistent irritation for me during my time with the car, which is a pity because the Mitsubishi has been otherwise faultless. However, I recently noticed that the flap covering the electric charge socket on the car no longer shuts properly. It wasn't a major problem, but it forced me to be extra diligent when parking, as I had to ensure it was closed enough for the integral charging light to go out.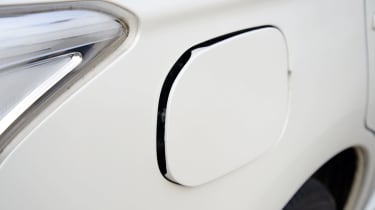 The other gripe isn't the Outlander's fault. As the popularity of electric cars has grown, our office car park has seen more battery-powered machines plugging in for a recharge. And with limited charging points, it's become a bun fight to get my car plugged in.
When I started my time with the Mitsubishi I wondered if it might be the ideal car for my needs, with its mix of practicality, 30-mile electric range for city driving and a proper fuel tank for longer trips. And were it not for the disappointing fuel economy in petrol only mode, it may be the closest I've got to my perfect transport yet.
Mitsubishi Outlander PHEV: report 3
Third report: Maximising hybrid SUV's electric-only range is becoming an obsession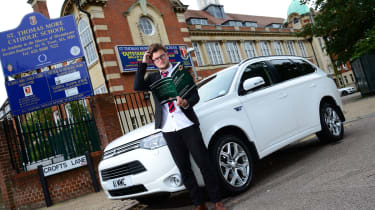 Mileage so far: 9,824Real-world fuel economy: 52mpg
Every time I get in my Mitsubishi Outlander PHEV, it's like I'm revising for my maths GCSE exam all over again. Not since that dreaded qualification 12 years ago have I concentrated so much on numbers.
You see, I just can't take my eyes off the electric range read-out inside the plug-in hybrid. Well, of course I'm looking at the road all the time I'm driving, but that doesn't stop me from staring at the dash with excruciating concentration when sitting at a red light or in traffic.
In fact, I think I've become obsessed. I'm a sort of range addict, willing and hoping for it to go up or stay where it is.
And after some warm months, there was one thing that seemed to hurt my electric range more than anything – and I wasn't the only one who had noticed. Put the air-con on, and the EV-only range drops dramatically by about 10 miles. In my irrational panic to save all the battery life, I would drop the windows instead.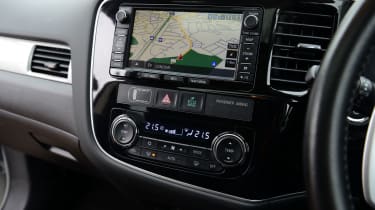 Now that we've entered the colder end of the year, I'm desperately watching the range to see how the heating affects it. So far, it seems to knock off a couple of miles, but doesn't have the same impact as the air-con.
Although the Outlander has felt fairly solid so far, I have noticed that the front seat has a tendency to rock back and forth when you brake and accelerate, which does feel a little odd. Despite this, the Mitsubishi continues to excel in the areas that we expected – starting with the boot. When it's not being occupied by my dog, the 436-litre load space has yet to come up short.
Then there are the rear seats. While I'm normally the driver, I recently found myself relegated to the back. That's far from a bad thing, though, as there's plenty of head and legroom, and the seats are comfortable enough, too.
One thing I still haven't managed to solve is where to put the charging lead. The car comes with two different cables, with one fitting in the hidden space under the boot floor with relative ease. But try to fit a second in there and you end up with a slightly raised boot floor and eventually a tangled mess of leads that looks like the Christmas lights when you fish them out of the loft.
Anyway, time for me to return to staring at my electric range and get up to speed on the numbers for my next trip.
Mitsubishi Outlander PHEV: report 2
Clever plug-in hybrid Mitsubishi Outlander PHEV SUV's appliance of science continues to impress our man
Mileage: 8,266 milesReal-world fuel economy: 43.1mpg
I've been running the Mitsubishi Outlander PHEV since July, and am still getting to grips with it. In fact there are enough settings, dials and complex controls to rival a high-powered telescope.
You see, this is much more than just a straightforward plug-in hybrid. There are numerous settings you can use to get the most out of the different driving functions – from pure EV to saving electric power when on a motorway.
One thing you notice as soon as you climb aboard is what look like steering wheel shift paddles. But these aren't to change gear, like the paddles in the Range Rover we also run on our fleet. Instead, they're for the regenerative braking.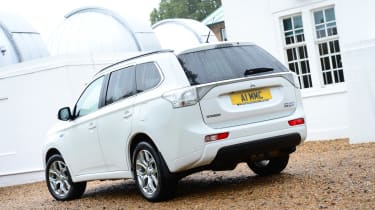 As with orthodox hybrids such as the Toyota Prius or electric cars like the Nissan Leaf, the Mitsubishi gets regenerative braking to help top up the battery. But this set-up differs from rivals' by offering five levels of retardation. So if you're going down a steep hill and braking a lot, level five will help to recoup more energy. If you're just driving along the motorway, level three is fine to top up the battery with some gentle coasting.
Then there's the clever 'Save' function. I spend most of my time in the PHEV commuting through London, taking advantage of its 28-mile electric range. But on the occasions I have to drive to an airport or visit friends in Peterborough, Cambs, it feels pointless using up that power on the motorway. So I press the 'Save' button, and the car runs on the petrol engine, leaving 14 miles of battery power untouched for when I'm in a built up, slow-moving environment.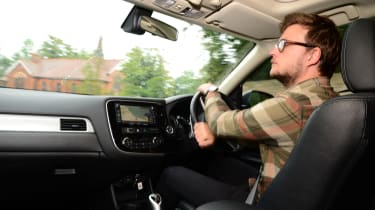 While the clever tech is impressing, the Mitsubishi's less sophisticated kit is irritating me. The sat-nav feels like an aftermarket solution, and no matter how often I use it, I can't master some controls or how to change some settings.
Still, so far the Outlander is proving spacious and comfortable. The ride can be a little harsh, and it rolls a bit in tight corners – possibly down to the weight of the batteries – but the controls are light and its dimensions aren't overbearing.
The biggest disappointment so far? Fuel economy once the electric range has run out seems poor and I've been filling up much more than I expected to. Even so, I don't need to peer into a telescope to see that these plug-in machines have a very bright future.
Mitsubishi Outlander PHEV: report 1
We pick up the keys to our new plug-in hybrid Mitsubishi Outlander PHEV. Let's find out what it can do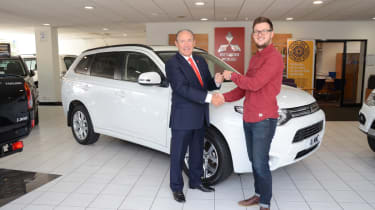 Mileage: 5,926 milesReal-world economy: 52.4mpg
Attempts to find the perfect way to power cars have taken us from traditional petrol and diesel, through to electric cars and hydrogen fuel cells.
All of these solutions come with their compromises, though. I think plug-in hybrid could be the answer, and over the next six months I'll be finding out if the Mitsubishi Outlander PHEV is the ideal solution for commutes and longer trips.
Firstly, I needed to pick up the eco-off-roader from Hummingbird Motors in Finchley, north London, and receive a crash course in the basic instructions to get me going. Dealer principal Larry Wood has been involved with Mitsubishis since the seventies, and was on hand to give me a quick tour around the car.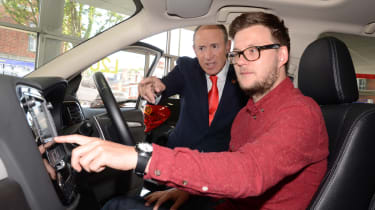 The Outlander is powered by a combination of a 2.0-litre engine and two electric motors. Fully charged, it'll go for 32 miles on battery power alone. Once these run out, the petrol engine is used as a generator to continue powering the motors, rather than the wheels.
That means it has power leads for charging, along with the usual fuel tank. With no off-street parking at home, I'm hoping that charging up in our office car park will allow me to make it home and back the next morning in EV mode – it's only an 18-mile round trip, after all.
What also makes the Outlander unique is its size. This isn't a small, lightweight crossover – it's a full-blown off-roader that can be switched to four-wheel-drive mode if necessary.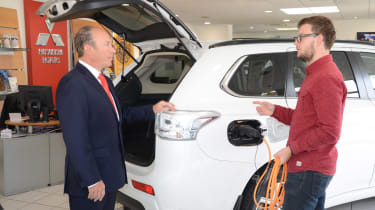 That's not the only clever tech on offer, however. There are numerous settings on the sat-nav screen that help tell me just how efficiently I'm driving and how far I'm travelling in pure electric mode.
Another key element is that, unlike some hybrid models, the batteries don't eat into boot capacity, which stands at 436 litres. I'm hoping the space will be comfortable for my dog Jarvis, plus provide plenty of room for trips to the tip.
I've since done only a few commutes from our central London offices to my flat in north London, but the Outlander has already impressed, with the exception of the firm ride. I particularly like the way it glides along in near-silence, helping to soothe the stresses of my drive. On this evidence, Mitsubishi has got closer than most to delivering the ideal powerplant for our times.
Insurance quote (below) provided by AA (0800 107 0680) for a 42-year-old living in Banbury, Oxon, with three points.