VW's MOIA brand could get the I.D. Buzz EV as its first model
Volkswagen's I.D. Buzz Detroit concept could become the first model for the MOIA mobility brand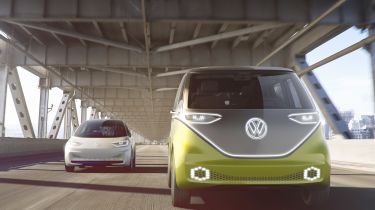 VW's I.D. Buzz, an all-electric version of the iconic Microbus from the sixties, could find itself on sale wearing a MOIA badge as a flag-bearer for the VW Group's recently announced mobility brand.
VW bosses are clear that the Buzz could make production at some stage if public reaction is positive enough. However, VW's sales and marketing boss Jurgen Stackmann has hinted that a version of the MPV would be ideal as a model for the MOIA brand.
• Best electric cars to buy now
Speaking exclusively to Auto Express, Stackmann said, "The Microbus style is uniquely VW, but a similarly spacious, electric, autonomous concept could be used for something else."
VW announced its new mobility brand MOIA - a partnership with ride-sharing app Gett which it purchased last year – in December, with new boss Ole Harms hinting that it could get its own standalone model. Now it looks as though the autonomous systems available through VW's I.D. cars could provide the necessary technology.
• Detroit Motor Show 2017: news
The I.D. Buzz stole the show in Detroit with its futuristic, eight-seat interpretation of the legendary Microbus. But while VW has committed to putting the I.D. model shown at last year's Paris motor show on sale by 2020, the Buzz remains very much a concept to gauge public opinion. VW bosses hope it could revitalise the MPV market, though, with prices similar to those of a mid-spec Caravelle.
Would you like to see a new version of the Microbus make production? Let us know in the comments section...