Talks to move Renault Kadjar and Captur production to Nissan Sunderland on hold, according to reports
Renault and Nissan were in talks to move production of the two SUVs from Spain to the UK, but these discussions have been paused due to political climate, reports indicate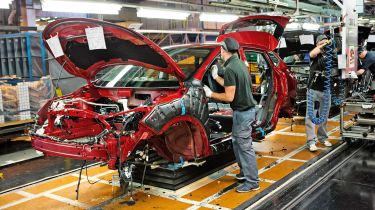 Talks to surrounding the proposed move of Renault Kadjar and Captur production to Nissan's Sunderland plant are on hold, according to reports.
Nissan and Renault have a strategic partnership with each, and were previously reported to be discussing shifting production of the two Renault SUV models from Spain to the UK.
This move, originally relayed by the Financial Times, are now on hold due to the current political climate, according to the paper. One insider told the FT discussions were set to continue "within weeks", while another source said it was too soon to put any timeline on a restarting of negotiations. 
Renault recently announced a wide-ranging cost-cutting programme that will see 15,000 jobs lost worldwide (roughly eight per cent of its workforce), while the future of the Alpine sports car marque also remains in doubt. 
Nissan's Sunderland plant, which is set to resume production in early June, will remain the Japanese company's European production base, despite previous warnings that Brexit could put its future in jeopardy. The factory has the capacity to produce 500,000 vehicles a year, but only built 350,000 in 2019.
As well as the plant's spare capacity, transferring production of the Kadjar and Captur from Spain to the UK would represent an even greater show of faith in post-Brexit Britain from Nissan, with the company recently having invested £400 million in the plant. The Kadjar and Captur sit on the same model platforms as the Nissan Qashqai and Juke, both of which are already built at Sunderland, so the move would make sense from a manufacturing perspective. 
But while the future of Sunderland - with or without Captur and Kadjar production - remains safe, the same is not true of other Nissan facilities. The firm's Barcelona van plant faces potential closure be closed, with Navara pick-up production moving to South Africa and the e-NV200 van replacement possibly being built at the Renault plant in Maubeuge, France.
What do you think about the move? Tell us in the comments...