Goodwood Festival of Speed 2021: Lotus takes centre stage
The Goodwood Festival of Speed will return this year, after Covid-19 cancelled the event in 2020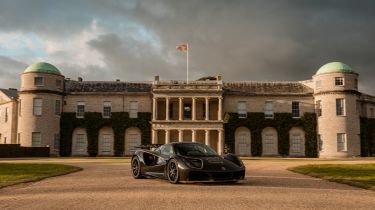 Goodwood has revealed the theme for this year's Festival of Speed, set to go ahead this year between 8 and 11 July, which will be a celebration of all things Lotus. 
Last year's festival was moved online due to the coronavirus pandemic, but the event is set to go ahead this year, provided coronavirus restrictions are not reintroduced after June 21. 
This year's theme will be "The Maestros – Motorsport's Great All-Rounders," and Lotus will be the event's key manufacturer.
The organisers have commissioned a new Central Feature sculpture for the brand, and Lotus will display its most iconic road and race cars around the festival, with everything from the 1965 Lotus Type 25 racer to the new Evija hypercar making an appearance.
The new Lotus Emira will also make its dynamic debut at Goodwood this year, which will replace the Elise, Exige and Evora as the brand's only combustion-engined sports car. It'll also be the last of its kind, as all of the company's future planned vehicles will feature pure-electric powertrains.
Lotus has a rich history at Goodwood. The Type 25 racer has held the circuit's period lap record since 1965, after Jim Clark posted a time of 1:20.4 minutes on his way to win the last ever Formula 1 race at the track. 
The Duke of Richmond, owner of the Goodwood estate, said: "We are delighted that Lotus will star as the Central Feature at this year's Festival of Speed presented by Mastercard. 
"Lotus cars raced with great success at Goodwood throughout the 1950s and '60s, including setting the ultimate lap record in 1965, and this year's Central Feature will serve as a fitting landmark to their past, present and future achievements. 
"The sculpture looks set to be one of the most dramatic and futuristic yet, bringing in elements of interactivity for modern audiences that align with Lotus' future-facing attitude and outlook."
Elsewhere, the Hillclimb event and Sunday Shootout will run as normal, as will the Michelin Supercar Paddock, allowing festival-goers to see exotic metal up close. There'll also be a concours d'elegance event on the lawn outside Goodwood House, which displays some of the rarest (and most perfectly polished) cars in the world.
The Festival of Speed Future Lab will also return for 2021, after its first appearance at the event in 2019. The attraction is designed to give the public a glimpse into the future of transport, revealing new autonomous driving technology, flying cars, virtual reality and deep-sea submersibles.
Formula 1 fans will even be able to meet their heroes up close, at the F1 Pit Lane. The marquee will feature a line-up of some of the greatest F1 racers from the sports history, while current drivers such as Lewis Hamilton, Daniel Ricciardo and former three-time world champion Jackie Stewart will all make appearances.
Will you be going to the Goodwood Festival of Speed? Let us know in the comments below…