Nissan rumoured to make UK battery factory announcement this week
Reports that UK Government is contributing to new multi-million pound factory which will open by 2024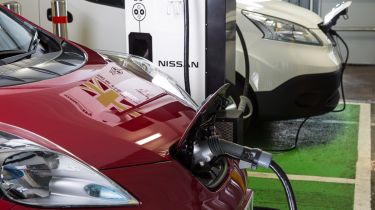 Nissan is rumoured to be in the final stages of talks with the government regarding the opening of a 'gigafactory' battery production facility in Sunderland, which could be announced later this week.
According to the BBC, it's hoped that the factory will be online by 2024, in time for when the number of UK-made components in UK-made cars is due to increase, as per the terms of the trade deal struck between the UK and the European Union as part of Brexit negotiations. 
The BBC claims that while the extent of government investment in the project has not been disclosed, it is contributing to the overall cost, which is expected to be hundreds of millions of pounds in total. 
Nissan already produces the all-electric Leaf at Sunderland, and the construction of a new battery factory would hint that future all-electric Nissan models could also be manufactured in the UK. The expansion of the firm's existing site at Sunderland would see post-Brexit Britain become Nissan's largest electric vehicle production centre outside Japan, building 200,000 plug-in vehicles every year and creating thousands of jobs.
It is said that the rumoured new factory will be run by Envision - Nissan's Chinese battery manufacturer - which bought a stake in the Japanese brand's worldwide battery plants in 2019.
The Society of Motor Manufacturers and Traders has previously emphasised the importance of automotive firms choosing the UK as the place to build new gigafactories as a means of increasing car production and meeting emissions targets.
Construction on the UK's first gigafactory - a Britishvolt site in Northumberland - begins in 2022, will be operational by 2023 and should be at full capacity in 2027, at which point it will be producing 300,000 lithium-ion battery packs a year.
Coventry City Council and Coventry Airport also announced in February a joint bid to submit a planning application and source £2 billion of funding from automotive firms for a gigafactory in the West Midlands, but it's not been confirmed this is going ahead yet. 
A Nissan spokesperson told the Financial Times that the firm had "no further plans to announce at this time", while a spokesperson for Envision added it had "no further plans or comments to make at this time".
Check out the plans for Northvolt and Volvo's new European gigafactory here...