Nissan to build Golf rival in Spain
Nissan will invest €130m in its Barcelona plant to build its new Golf rival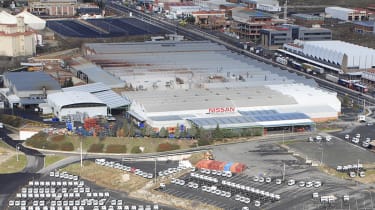 Nissan has announced that it will build its new C-segment rival to the Volkswagen Golf at its plant in Barcelona, Spain.
The new car, which is due to begin production in July 2014, was to be built at Nissan's Sunderland factory. However, Nissan has invested £250million in the Sunderland facility to build a new Infiniti small car from 2015 instead.
The Barcelona factory currently produces commercial vehicles like the NV200 in both conventional and eNV200 electric powered forms, and the Pathfinder SUV and Navara pick-up models.
The new passenger car will add 80,000 extra units of annual capacity to the plant, taking total production at the Barcelona factory to more than 200,000 vehicles. It represents a €110million investment and Nissan claims that 1,000 direct and 3,000 indirect jobs will be created.
As well as its new Golf rival, Nissan will add 24,000 units of additional annual capacity for building the Navara, which represents an additional €14million investment. The plant will also be responsible for building the gearbox for the Nissan Leaf and eNV200, which represents a further €6million investment.
The total investment of €130million will be used to renovate and modernise the Barcelona plant's production lines in readiness for the start of the new passenger car and electric gearbox production.
However, while Nissan has announced where its new Golf and Ford Focus rival will be built, it stopped short of confirming the new car's name. Nissan's executive vice president of product planning, Andy Palmer, told Auto Express: "There is a gap in our range and the idea of the new car is to keep our customers within the brand.
"This will catch buyers moving up from a Juke, who can then buy a Qashqai if they need more space. Eventually, the idea is to get them into an Infiniti."
"The name is yet to be revealed, but Palmer dropped a series of hints. "It won't use the Almera name, you can be sure of that," he said. "But it will be familiar."