2013 Nissan GT-R
Engine and suspension updates make the high-tech Nissan GT-R supercar better than ever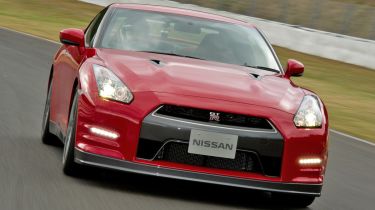 The new GT-R doesn't look much different, but the engine and suspension tweaks mean it has more torque and handles better than before. And not only is the new car faster than ever, its comfort mode really does improve the ride significantly, too.
The new 2013 model year Nissan GT-R looks very much like last year's updated car, but Nissan's obsession with tweaking the flagship model has yielded some major improvements.
The only real visual change is the addition of a new carbon fibre rear wing, while under the skin, the dual-clutch gearbox and four-wheel drive system are as before. However, the 3.8-litre V6 has been treated to some new high-output injectors, which are designed to improve engine response at higher revs. Plus, each engine now has a plaque telling you which of the six engineers trained to build GT-R V6s put yours together.
The big change is with the suspension. Nissan has learned lessons from racing a standard GT-R at May's Nurburgring 24 Hours, so there are now special cam bolts on the front suspension that improve the accuracy of the camber, which means better handling.
Revamped bushes have also changed the geometry of the front suspension, lowering the centre of gravity.
We drove the car at the Sportsland Sugo Circuit, 230 miles north east of Tokyo, and found the revisions mean better steering response at all speeds. You now need less effort to turn into a corner, and won't have to turn the wheel quite as much, either.
The new GT-R stays flatter in bends, while the sensational grip is increased at the front end. Braking stability and grip when slowing from high speeds have improved notably, too.
As well as the high-speed improvements, there's a new 'comfort' mode for the dampers – a revision that makes the car easier to live with. It softens the ride and does away with the excessive crashing and banging suffered by the previous GT-R when going over undulations.
And while it's a second faster around the Nürburgring and a tenth quicker from 0-62mph, the suspension tweaks mean the Nissan is now a more usable supercar on the road as well.