Deal of the Day: Nissan Juke catches the eye at £202 per month
Our Deal of the Day for 8 November is the funky Nissan Juke for just over £200 per month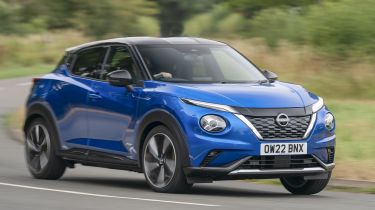 £202 per month for 35 months
Generous levels of on-board kit
One of Britain's most popular cars
The second-generation Nissan Juke might be one of the Japanese manufacturer's oldest offerings having arrived on the scene in 2019, but its design remains eye-catching and with keen leasing deals it's more appealing than ever. 
We found this offer on leasing.com, allowing you to get behind the wheel of a well-specced Juke Acenta model from just £202 per month, with a sensible initial payment of £2,117. 
The deal runs across three years and has a mileage limit of 5,000 miles per year, although bump this up to a more realistic 8,000 miles and your monthly premium only increases to £215. Extending the deal an extra year on top of this means instalment payments rise to £219.
The car is a factory order so delivery will take between three to six months, but if you can't wait that long, you can get an identical car for just £2 more a month and have it immediately. 
As this is a PCH (Private Contract Hire) agreement there's no option to buy the car at the end of the contract, so you'll need to keep your next deposit in mind, because there's no opportunity to use any equity remaining in the Juke when it's time to give it back. 
The straightforward nature of a PCH plan does reduce cost for the customer however. If you wanted the same Juke from Nissan itself and on a similar agreement, you'd be looking at around £285 per month.
The Juke is a small SUV but it has a big presence on the road. The chunky round fog lights and ultra thin main lights draw attention, and it's a well-proportioned little car with a bulky stance. Acenta trim brings plenty of kit with Apple CarPlay and Android auto compatibility, an eight-inch central screen, 17-inch wheels and a rear-view camera. 
As always with our Deal of the Day selections, prices and offers are subject to change, while terms and conditions apply. Our experts scour the market for the best deals on cars that we're happy to recommend, choosing only the ones that we think offer the best value.
Get the Nissan Juke lease deal here or take a look at yesterday's Deal of the Day...