Nissan Pulsar diesel review
Verdict on Nissan Pulsar diesel that's set to be new range's big seller
The Nissan Pulsar diesel largely retains the quiet cruising refinement of the turbocharged petrol model, but adds a useful slug of extra torque and the potential for very reasonable running costs. Class-leading space is impressive, too. If you do big mileages, this is the Pulsar for you.
Nissan has chased refinement and comfort instead of handling fun with its new VW Golf-rivalling Nissan Pulsar hatch. So the proposition of pairing it with a super-frugal diesel engine is appealing, especially when around 60 per cent of purchases will be made by CO2-conscious fleet buyers.
The Pulsar diesel's 1.5 dCi engine produces 109bhp and, more importantly, 260Nm of torque. You don't get all that perfomance exactly where you expect it, though, as this Pulsar feels like it has particularly long gear ratios –you'll often need to change down to overtake. The 0-62mph times reveal that the diesel is actually eight-tenths slower than the petrol turbo, despite boasting an extra 70Nm of torque.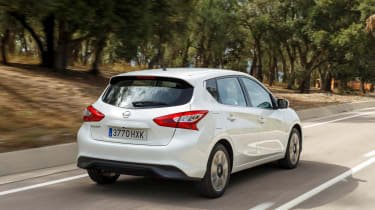 The benefit of those long ratios is that they help the Pulsar to deliver claimed economy of 78.5mpg and a clean 94g/km CO2 output. A long but swift motorway cruise saw our test car manage almost 60mpg, boding well for the newcomer's arrival here next month.
As we've said, the Pulsar doesn't purport to entertain or engage its driver in the manner a Mazda 3 does, but it's worth mentioning anyway that the handling hasn't suffered from the weighty diesel engine under the bonnet.
You can push the Pulsar pretty hard into a bend before the nose runs wide, but there's little excitement involved in driving quickly. The ride is fuss free, although a sterner test will come when we drive the car on rougher UK roads.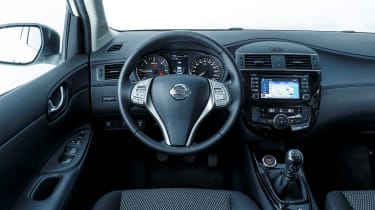 The cabin is well laid out, but it lacks flair and some plastics feel a bit cheap. Still, you can't argue with the space. As we found in the petrol car, the boxy shape and best-in-class 2,700mm wheelbase allow for rear access and space that rivals can't hope to match. The rear knee room is genuinely a surprise when you climb aboard. This Nissan really will seat a family of five easily, and the 395-litre boot will swallow their luggage as well.
As a cheap-to-run family workhorse or a relaxing spacious company car, the diesel Pulsar ticks plenty of boxes.