Nissan Pulsar 1.5 dCi 2014 review
We drive the Nissan Pulsar diesel in the UK in top-spec Tekna guise
The Pulsar doesn't bring anything radically different to a fiercely competitive C-segment but, having said that, Nissan was never claiming to have reinvented the wheel with the Pulsar. It's an affordable, well kitted out, incredibly spacious and super efficient family hatchback. You have to admire its honest simplicity for that, which is why there's no reason not to have it on your shortlist.
While Nissan has been busy establishing itself as a crossover brand, it has let one of the most lucrative and popular markets in the industry pass them by. Nissan has been absent from the C-segment for around six years, but now the Japanese brand is back and the all-new Pulsar, tasked with taking on the hatchback elite, has arrived in the UK.
Nissan has injected a fair amount of Qashqai DNA into the Pulsar. The honeycomb grille, chrome detailing and contoured bonnet are all design cues borrowed from its crossover brother. Step inside and it's another Qashqai copy and paste, with an extremely similar centre console, instrument cluster, dash and materials all being carried over.
So the design is nothing ground breaking – inside or out for that matter – but a 2,700mm wheelbase makes it the most spacious interior in the class by some margin. There's acres of space in the back, with even the tallest of passengers more than catered for – the Pulsar even embarrasses a car or two in the class above when it comes to roominess.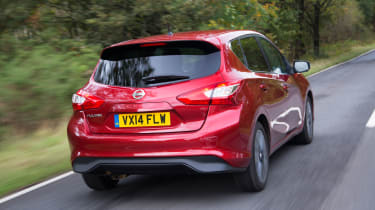 You can also use every single one of the 395-litres of boot space thanks to a wide and deep load bay and a simple 60:40 split rear bench frees up 1,395 litres of space if required.
Top spec Tekna models like our test car also come brimming with kit. A 5.8-inch colour touchscreen, sat nav, reversing camera, Bluetooth, leather upholstery and dual zone climate control are all thrown in.
On the move, however, the Pulsar doesn't deliver to the same degree. The 109bhp 1.5-litre diesel borrowed from the Qashqai is the predicted big seller and with claimed fuel economy and CO2 emissions of 78.5mpg and 94g/km it's easy to see why.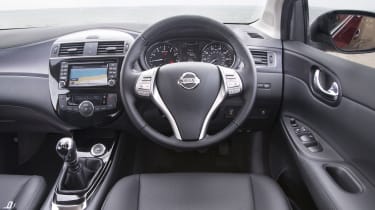 It's powerful enough for your everyday needs but don't expect any thrills, plus the four-cylinder engine is not as well isolated from the cabin as it is in the larger Qashqai. Once up to speed, though, it's hushed and well mannered.
Over more rutted ground the ride has a tendency to fidget about a little, while the steering is accurate enough if a little numb on feel but it's a safe and surefooted mile-muncher.
A Ford Focus is the more involving to drive and the Mazda 3 rather more exciting, but the Pulsar is larger, more practical, better on fuel and cheaper to run than almost all of its main competitors, and for buyers in this market that's exactly what they're looking for.
Click here for a full review of the Nissan Pulsar...