Car hunter: Crossovers
Reader has £13,000 to spend on a capable front-wheel-drive crossover. Here are our best buys...
Dear Chris,I've got about £13,000 to spend on a new car, and ideally want a crossover, but don't necessarily need four-wheel drive. What would be my best options?Kevin Willett, E-mail
If you'd like help choosing your next car, contact chris_ebbs@dennis.co.uk.
The best buys:
Crossover pioneer: Nissan Qashqai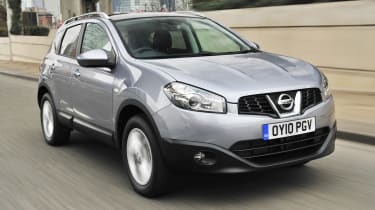 For: Comfortable, low running costsAgainst: Rear visibility, sluggish diesels
Nissan started the current trend for crossovers with the Qashqai, and five years after going on sale, it's still one of the best models on the market. It's a comfortable car with a smooth ride, as well as being surprisingly composed through corners considering its ride height.
While raised seating means front visibility is good, the sloping roof and large C-pillars restrict the rearward view.
The Qashqai has been a popular choice, so there are plenty of cars to choose from on the used market, with two-wheel-drive models especially common.
For £5 under your budget, you can pick up a 2010 1.5-litre dCi car in Acenta trim with 15,000 miles on the clock. Emissions of 139g/km and 54mpg economy mean running costs are affordable, although this 109bhp diesel engine can feel underpowered in the Qashqai.
Great practicality: Peugeot 3008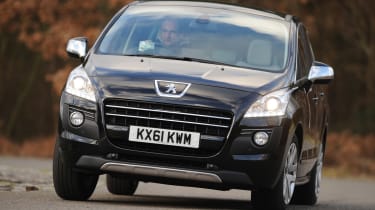 For: Spacious cabin, flexible boot spaceAgainst: Stingy kit list, interior quality
While most crossovers are a mix of off-roader and family hatchback, the Peugeot 3008 instead blends MPV with 4x4.
That means a higher seating position offering good visibility plus chunky styling, and excellent practicality. The boot can be adapted in a number of ways, while there are loads of storage cubbies in the cabin.
With the exception of the pricey hybrid, all 3008s are two-wheel drive; just avoid the entry-level car, as kit is sparse. Steer clear of the jerky EGC semi-auto box, too.
There are plenty of cars to choose from on your budget. You can pick up a 61-plate 1.6-litre HDi 112 Sport car with 12,000 miles for exactly £13,000. The Peugeot can't quite match the Ford and Nissan for build quality, and some of the materials feel a little flimsy, so it's best to check any used examples you're considering carefully.
Brilliant to drive: Ford Kuga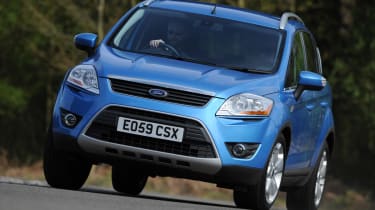 For: Enjoyable to drive, good lookingAgainst: Poor practicality, running costs
Ford was late to the crossover party, and the Kuga hasn't been quite the massive hit the company expected. That's a shame, as it's one of the best-looking models around, and among the most engaging at the wheel.
You get plenty of choice for your cash, with a mix of two and four-wheel-drive versions all below your £13,000 budget. You can find a 2.0-litre TDCi Zetec model on a 59 plate with 20,000 miles for £12,990. That's the smallest engine available in the Kuga range, so while running costs are still reasonable – it returns 47mpg economy and emits 154g/km of CO2 – the Ford trails the Nissan and Peugeot here.
The Kuga isn't as practical as the other two cars, either. The boot only holds 360 litres, and it's not very flexible, while space for rear passengers is relatively poor, too.