Nissan X-Trail Tekna diesel review
Nissan's latest X-Trail compact SUV adds style and comfort to the old model's substance
It's a smart move by Nissan to build on the success of the Qashqai, with this latest X-Trail. It offers buyers a more practical alternative with but without sacrificing all the stylish appeal, comfort and technology of one of the world's best-selling crossovers. It's not as rugged as the car it replaces but the four-wheel-drive models can tackle a bit of a light off-roading and the new, on-road biased character is far more relevant to today's buyers.
The Nissan X-Trail used to be a bit of a boxy, off-roader but you'll notice this new model has taken a few tips from the big-selling Qashqai – both visually and technically. The streamlined looks come as part of a streamlining of the Nissan line-up, which sees the seven-seat Qashqai+2 dropped, and the new X-Trail stepping up to fill the gap.
This third-generation model is built on the same platform as the latest Qashqai but comes with an extended wheelbase and independent rear suspension on every model. On the Qashqai only four-wheel-drive variants get the more advanced suspension set-up. There's a slightly higher ride height, too, which reveals Nissan's plans to position this as more of a rugged off-roader than the Qashqai.
• Best SUVs and 4x4s to buy now
What you also get over Nissan's popular Qashqai is an extra 268mm of length in the body and 80mm of height – both of which are immediately noticable in the functional cabin. The second row of seats can slide a total of 260mm back and forth in a 60:40 arrangement, while the seat backs can also be angled for extra room in the boot.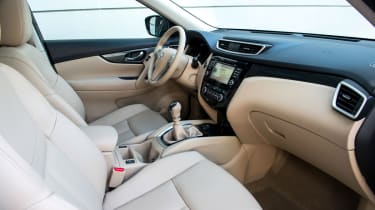 For £700 you can get a third row of seats, which fold completely flat in to the floor. With them in place you could conceivably carry a couple of average-sized adults but children will feel a lot more at home – especially because of the theatre-style seating, which sees each row mounted higher than the one in front. Fold the rearmost seats out the way and there's a pretty generous 500-litre boot. It's 135 litres with all the seats in place.
Picking an X-Trail is easy as there's only one engine on offer – a 1.6-litre dCi boasting 128bhp. The 320Nm torque figure is the same as the old X-Trail's 2.0-litre engine but with a 90kg lower kerbweight, this car is 18% more fuel efficient, boasting 58mpg in the front-wheel-drive manual-equipped model. It's a really smooth, quiet engine and there's enough performance to ensure it never feels sluggish. Unless, that is, you decide to go for the CVT gearbox, which we found results in lazy acceleration. On the plus side, it shifts a lot like a traditional torque converter auto, without any of the over-revving you normally get from a CVT.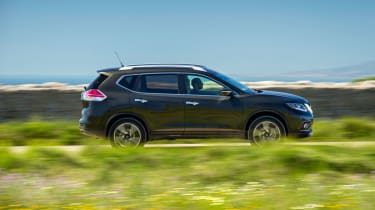 The handling feels a lot more comfort-focused than in the Qashqai. There's more body roll in the corners and a little less stability at speed as a result but comfort and refinement are both excellent. The Qashqai's relaxed character has been carried over and turned up a couple of notches. There's clearly a little more off-road ability here, too, when you've got the £1700 four-wheel-drive system fitted, which offers buyers a choice between two-wheel drive, auto, or a permanent four-wheel-drive 'Lock' setting.
The cabin is just as good as the Qashqai, featuring the same high-quality materials and premium design. All models come with a five-inch colour screen in between the dials, as well as alloy wheels and Bluetooth. We drove a flagship Tekna model but would recommend n-tec, instead – from £27,295 – which gets 19-inch alloys, a seven-inch touchscreen, keyless-go, 360-degree parking cameras and safety systems like auto braking and lane departure warning.
Check out our round-up of the best 4x4s on sale now.