'Bentley needs real powertrain innovation if it's to remain remotely relevant'
Deputy editor John McIlroy thinks Bentley's EV switch is key to the firm's future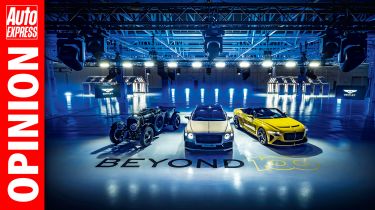 Bentley is making headlines this week, after its announcement that it plans to go electrified-only by 2026, and pure electric-only by the end of the decade. That's a bold target for a company with such traditional values, let alone one whose main models are still powered by V8 and W12 petrol engines.
But Bentley boss Adrian Hallmark is not wrong in setting his sights high. The past week is proof that, when challenged, car company engineers can come up with fascinating innovations.
Take Toyota's GR Yaris, for example. You can read Steve Sutcliffe's verdict on the car here, but although our man has driven more hot hatchbacks in his time than he'd ever care to mention, even he is surprised (and yes, just a little bit pleased) with this new arrival. 
If you'd have said two years ago, amid the push towards electrification and low CO2 targets, that Toyota would launch a turbocharged three-cylinder, four-wheel-drive version of the Yaris, complete with its own unique three-door bodystyle, you'd have been laughed at. Yet here it is. And it's really rather good.
Equally, Audi has to move with the times – not just on electrification, but also on sustainability. So when its take on the Porsche Taycan arrives in 2021, the well heeled shoes of the e-tron GT's owners will press down into vegan carpet. Even Land Rover has learned new tricks – and crammed them into the improved cabin of its revised Discovery, itself a former Auto Express Car of the Year.
It's these examples of progress that make us so excited about the announcement from Bentley. Because for all its expertise in leather and wood crafting, the Crewe-based brand needs real powertrain innovation if it's to remain remotely relevant to those who can afford its products. Now that it has recognised this, you can bet the company's engineering department will be buzzing. We can't wait to see what solutions they come up with.
Are you looking forward to electric Bentleys? Let us know in the comments below...