'The sub-£20k new car could vanish under Euro 7 eco rules'
Deputy editor John McIlroy thinks Euro 7 proposals could make new small cars significantly more expensive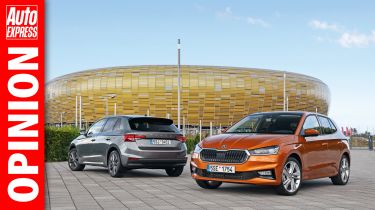 Most car companies are focused on electrifying their line-ups by the end of this decade. But what of the cars we're meant to drive between now and then?
Skoda boss Thomas Schäfer issued a stark warning on this matter to us when we caught up with him last week. The European Commission is currently considering various proposals for its Euro 7 vehicle regulations, likely to become mandatory around 2025. And if they opt for the more extreme set of possible rules, Schäfer says, we'll see the end of the sub-£20,000 new car as we know it.
"If Euro 7 comes in, in the way everybody says it will, that will make the Fabia 5,000 Euros more expensive, at least," Schäfer told us. "The impact on small cars would be proportionally much higher than it would be on the bigger models. It's crazy."
Schäfer's argument is that a tougher set of Euro 7 rules might actually hold back the push towards EVs – purely because brands will have to divert engineering budget to keep selling existing models in the second half of this decade. "We're all going with big steps into electrification," he said. "So to bring in Euro 7 on the way to total electrification at the end of the decade is ludicrous, because we have to spend a lot of money to get to that step, which we could be spending instead on electrification. It hurts the transition."
It could also hit thousands of buyers who either aren't ready for an EV, or can't afford bigger models. The EU might be well served by listening to the automotive manufacturers on this one.
Click here for our list of the cheapest new cars on sale in the UK...