"You could get a BYD on your driveway before a VW"
Editor-in-chief Steve Fowler is excited by the new wave of upstarts - such as BYD and Ora - that are on their way to the UK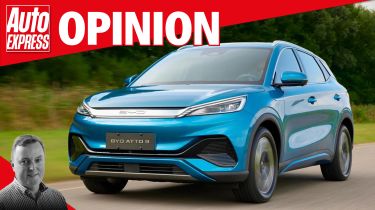 It wasn't long ago that Kia and Hyundai were the challenger brands making waves by taking on established car makers. Now they're part of the establishment themselves, producing cars that are among the best you can buy – as their multiple award wins, not least from us, prove.
More than that, in the new world of electrification we're seeing a levelling of the playing field where buyers are finding the latest Kias and Hyundais just as appealing as models from what we would class as traditional premium brands. The combination of style, quality and tech that these cars offer is as good as – and often better than – what the posh European car makers have on sale.
But now it's the likes of Kia and Hyundai that are in the cross hairs for a new wave of car makers coming to the UK. MG has been at the forefront of this invasion, with the quality of its cars and the number it now sells propelling it into the mainstream, fast. We rate the new MG4 highly and having now driven it myself, I totally agree – it's a brilliant car.
We've also been behind the wheel of the BYD Atto 3 – another Volkswagen ID.3 rival from China that's set to offer decent quality, tech and driving manners for less than its VW equivalent. And perhaps even more amazingly, it's set to be on sale here by the end of the year, so you could get a BYD on your driveway before a VW. The only parts of the Atto 3 that BYD doesn't manufacturer itself are the glass and tyres – so no component supply issues there, then.
Also coming soon is the Ora Funky Cat, made by another Chinese giant, Great Wall Motors. It follows a similar theme to BYD (and others before), by offering more for less. The upstarts of old were often short on quality and made up for that with low prices and bags of kit. That's not the case with these new models. Apart from an established name, they seem to pretty much have it all.
Click here for our list of the cheapest electric cars on sale in the UK...