Peugeot 308 GTi production halted due to tightening emissions
Peugeot will pause 308 GTi production to reduce the model's emissions; sales will restart later in the year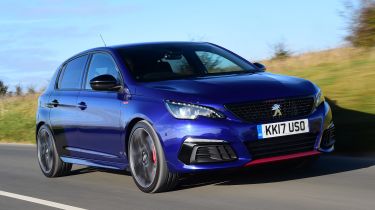 Production of the Peugeot 308 GTi by Peugeot Sport is to go on a four-month hiatus due to tightening emissions regulations. The latest Euro 6.2 rules have forced the French brand to reengineer its hot hatchback, with sales due to resume in October.
The latest regulations - which take the WLTP real world economy and emissions standards into account - mean that the Peugeot's 1.6-litre turbocharged engine will need tweaking to stand up to the stricter guidelines. The same is expected with many high performance direct injection petrol units.
• Best hot hatches on sale 2018
The addition of a petrol particulate filter should reduce the 308's emission of fine soot particles - known to be a contributor to severe respiratory issues - by a significant amount. It's a move that Volkswagen applied to all of its turbo petrol models last year in response to the 'dieselgate' emissions scandal.
Peugeot is confident that the 308 GTi's 266bhp output won't be affected by the emissions changes. The unit was co-developed with BMW for the previous generation MINI, and Peugeot Sport has since tweaked the unit to extract ever increasing power outputs.
Meanwhile, the next generation of the 208 supermini is expected to make its first public appearance at the Paris Motor Show in October. In the meantime, production of the three door versions of the current car has ceased, and the 208 GTi has finished with it. That means, for the time being, Peugeot offers no hot hatch variants in its lineup, but Peugeot officials have previously hinted that the GTi brand remains a vital part of its range.
Read our in-depth review of the Peugeot 308 GTi…