Peugeot 308 GTi vs Ford Focus ST Mountune vs SEAT Leon Cupra
We see if Peugeot's hot hatch revival continues as new 308 GTi meets Ford and SEAT rivals
For years Peugeot's GTi badge ruled the hot hatchback sector. Its 205 GTi is a truly iconic car, although after its demise the brand launched a string of underperforming lukewarm models that failed to catch the imagination.
But 2015 marked the start of Peugeot's resurgence with its focused 208 GTi by Peugeot Sport supermini, and the company is aiming to upscale that car's mouthwatering recipe for its latest effort: the 308 GTi. Based on the five-door-only 308, it blends practicality and performance. With the RCZ R coupé's 1.6-litre four-cylinder turbo under the bonnet, plus a big brake upgrade and a chassis tuned by Peugeot's motorsport arm, it promises to combine driving thrills with space for the family and their luggage. But it's got a glut of talented rivals to take on if it wants to top the class – and two of the toughest are the Ford Focus ST and our favourite hot hatch, the SEAT Leon Cupra 280.
The ST was updated late last year, and now Ford-endorsed tuning arm Mountune has upped power by 10 per cent. The Leon is as appealing as ever, and like all our test cars, has a rip-roaring engine and a manual box. But which comes out on top?
Head to head
Noise
Sport modes on the Peugeot and SEAT boost throttle response and, crucially, noise. The Leon sounds better than the artificial noise piped through the 308's speakers, even though the exhaust whoosh is appealing from outside.
The Ford's naturally enhanced engine roar is the best – it builds from a deep rumble to a high-rev warble and fits the car's character.
Flexibility
Only the Leon Cupra is available as a three-door, but these five-doors all have to seamlessly mix performance and practicality.
The SEAT does this best, with the neatest blend of comfort, quality, performance and space. The 308 is the softest, while the Focus feels eager all the time.
Sporty design
All three cars look great, with styling pitched well for everyday use. The sharper Ford is more overtly sporting, while the 308 has rounded edges and subtle visual extras. SEAT's designers have cleverly enhanced what was already there with a few tweaks.
Verdict
1st place: SEAT Leon Cupra
It's marginally more expensive than its rivals and not quite as efficient, but the Leon Cupra is still our favourite family hot hatch. Here, performance matters more than practicality, and the car still has the edge. The extra running costs are easier to stomach when the SEAT delivers so much on every front. It's exactly what a combination of thrilling driver's car and practical transport should be.
2nd place: Peugeot 308 GTi
Peugeot is on a roll. This GTi takes all the excitement of the smaller hot 208 and mixes it with the classy 308 body, resulting in a strong package of performance, driving thrills and refinement. It adds low running costs and practicality to its long list of talents. It's just not as exciting or as capable as the Leon, and despite a bigger boot, isn't any more practical.
3rd place: Ford Focus ST-2 Mountune 275
Adding the Mountune performance pack has improved the Focus even further without introducing any compromises. For the money, we would definitely recommend it. However, the standard car has too many flaws to win this test as a usable, everyday hot hatch. The boot is too tiny to ignore and the firm ride could get on your nerves. Still, as a driver's car it's up there.
Other options for similar money
New: Honda Civic Type R
Price: £29,995 Engine: 2.0-litre 4cyl, 306bhp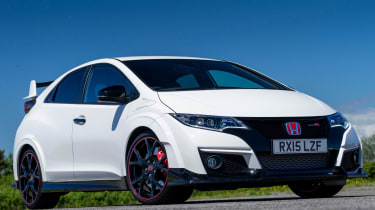 The looks are divisive, but the new Civic Type R promises more performance for just a bit more money than our test trio. Just be warned: it's even more hardcore than the Ford, with a very firm ride. Plus, interior quality is lacking.
Used: Volkswagen Golf R
Price: £28,500 Engine: 2.0-litre 4cyl, 296bhp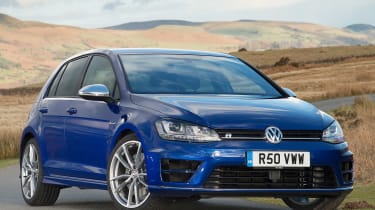 If you fancy more security this winter, second-hand 4WD Golf Rs are going for a song. This price buys a new car with delivery mileage. It still looks chunky, while the solid drivetrain should put the power down even more effectively.
Figures
| | | | |
| --- | --- | --- | --- |
| | SEAT Leon Cupra 280 | Peugeot 308 GTi 270 by Peugeot Sport | Ford Focus ST-2 Mountune 275 |
| On the road price/total as tested | £28,210/£30,345 | £28,155/£29,070 | £25,495/£28,825 |
| Residual value (after 3yrs/36,000) | £12,099/42.9% | £12,701/45.1% | £12,671/49.7% |
| Depreciation | £16,111 | £15,454 | £12,824 |
| Annual tax liability std/higher rate | £1,455/£2,909 | £1,231/£2,461 | £1,249/£2,497 |
| Annual fuel cost (12k/20k miles) | £2,052/£3,420 | £1,846/£3,077 | £1,976/£3,294 |
| Ins. group/quote/road tax band/cost | 33/£551/G/£180 | 34/£562/E/£130 | 33/£608/G/£180 |
| Cost of 1st/2nd/3rd service | £179/£229/£179 | £13pm (3yrs/35k) | £570 (3yrs) |
| | | | |
| Length/wheelbase | 4,236/2,596mm | 4,253/2,617mm | 4,362/2,648mm |
| Height/width | 1,423/1,810mm | 1,446/1,804mm | 1,471/1,823mm |
| Engine | 4cyl in-line/1,984cc | 4cyl in-line/1,598cc | 4cyl in-line/2,000cc |
| Peak power/revs | 276/5,600 bhp/rpm | 268/6,000 bhp/rpm | 271/5,500 bhp/rpm |
| Peak torque/revs | 350/1,700 Nm/rpm | 330/1,900 Nm/rpm | 400/3,500 Nm/rpm |
| Transmission | 6-spd man/fwd | 6-spd man/fwd | 6-spd man/fwd |
| Fuel tank capacity/spare wheel | 50 litres/space saver | 53 litres/repair kit | 62 litres/space saver |
| Boot capacity (seats up/down) | 380/1,210 litres | 470/1,309 litres | 316/1,215 litres |
| Kerbweight/payload/towing weight | 1,375/495/1,500kg | 1,205/585kg/N/A | 1,437/588kg/N/A |
| Turning circle | 10.7 metres | 10.4 metres | 12.0 metres |
| Basic warranty (miles)/recovery | 3yrs (60,000)/2yrs | 3yrs (60,000)/1yr | 3yrs (60,000)/1yr |
| Service intervals/UK dealers | 20,000 (2yrs)/128 | 20,000 (1yr)/300 | 12,500 (1yr)/781 |
| Driver Power manufacturer/dealer pos. | 15th/27th | 10th/5th | 25th/26th |
| NCAP: Adult/child/ped./assist/stars | 94/92/70/71/5 | 92/79/64/81/5 | 92/82/72/71/5 |
| | | | |
| 0-60/30-70mph | 6.6/5.2 secs | 6.2/5.4 secs | 6.4/5.4 secs |
| 30-50mph in 3rd/4th | 2.6/3.8 secs | 2.6/3.4 secs | 2.6/3.4 secs |
| 50-70mph in 5th/6th | 4.5/6.1 secs | 4.6/5.7 secs | 4.4/5.5 secs |
| Top speed/rpm at 70mph | 155mph/2,500rpm | 155mph/2,900rpm | 154mph/2,500rpm |
| Braking 70-0/60-0/30-0mph | 54.3/38.9/9.4m | 55.1/40.5/10.6m | 57.0/42.1/11.0m |
| Noise outside/idle/30/70mph | 70/52/64/70dB | 75/51/64/70dB | 70/57/64/70dB |
| Auto Express econ (mpg/mpl)/range | 28.7/6.3/316 miles | 31.9/7.0/372 miles | 29.8/6.6/406 miles |
| Govt urban/extra-urban/combined | 32.5/51.4/42.8mpg | 34.9/57.6/47.1mpg | 32.1/49.6/41.5mpg |
| Govt urban/extra-urban/combined | 7.2/11.3/9.4mpl | 7.7/12.7/10.4mpl | 7.1/10.9/9.1mpl |
| Actual/claimed CO2/tax bracket | 227/156g/km/26% | 205/139g/km/22% | 219/159g/km/26% |
| | | | |
| Airbags/Isofix/park sensors/camera | Seven/yes/yes/£215 | Six/yes/yes/yes | Six/yes/£325*/£250 |
| Automatic box/stability/cruise control | £1,355/yes/yes | No/yes/yes | No/yes/£250 |
| Climate control/leather/heated seats | Yes/£695/£360 | Yes/part-leather/no | Yes/part-leather/no |
| Metallic paint/xenon lights/keyless go | £575/LED/no | £525/LED/yes | £525/no/£350 |
| Sat-nav/USB/DAB radio/Bluetooth | Yes/yes/yes/yes | Yes/yes/yes/yes | £250/yes/yes/yes |