Peugeot 508 (2011-2018) review
The Peugeot 508 is a comfortable saloon that has been outclassed by rivals
The Peugeot 508 has never really been a huge seller in the UK. It first arrived in 2011, while it was given a facelift in 2014 to help it compete against the likes of the Skoda Octavia and VW Passat. Other rivals for the 508 include the Ford Mondeo, Vauxhall Insignia, Kia Optima and Hyundai i40.
The 508 replaced both the 407 and Peugeot's larger 607 when it went on sale, and it shares its engineering and front-wheel-drive underpinnings with the Citroen C5 range. Both are built side-by-side at the PSA Group's plant in Rennes, France, and the 508 is available as a saloon or SW estate.
Along with a more upmarket look, helped by redesigned headlights, grille and bumpers, the facelift also saw Peugeot add two efficient but punchy diesel engines. Both are BlueHDi motors and promise fuel economy that's among the class leaders. There's also a diesel-electric HYbrid4 model that emits only 85g/km of CO2.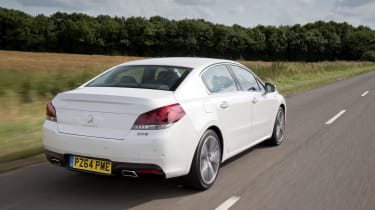 Peugeot's larger models have traditionally targeted customers who prefer a safer and comfortable drive rather than the thrill-seekers. That means the 508 is engineered for a ride that is supple and rarely unsettled by bumps in the road. Top spec GT models get a more sophisticated suspension set-up, which improves the ride even further.
More reviews for 508 Saloon
Peugeot also offers the 508 SW badged estate car version, and the 508 RXH which is a jacked-up version of the SW load-carrier that's designed to attract drivers interested in the crossover market.
There are four trim levels available, starting with the Active which comes with Emergency Brake Assist, ESP, cruise and climate control and a touchscreen satnav with Bluetooth and DAB radio. Allure adds electric seat adjustment, parking sensors and reversing camera, blind spot monitoring, keyless entry and a panoramic sunroof on SW models.
GT Line adds half leather upholstery, LED headlamps and sportier 18 inch alloys, while the top spec GT has a head-up display, full leather and even racier 19 inch wheels.
Overall, thought, the 508 lacks the practicality of rivals to make it appealing. Combine this with patchy relaibility, especially from the electrics, and Peugeot's saloon struggles to make a case for itself.
This generation of 508 was replaced by the 508 Fastback in 2018.
The Peugeot 508 is a bit of an also-ran in the family car sector. With hugely capable rivals such as the Ford Mondeo and Vauxhall Insignia to contend with, it's no real surprise that the 508 can't keep pace.
Low running costs are appealing, but smaller dimensions mean it's not as practical as rivals, while the soft driving experience won't be to all tastes. Plus there are question marks over reliability - electrical problems are not unknown, so if you're thinking of buying a 508, we'd recommend checking all of the electrical gadgets and gizmos work correctly.
Overall, the 508 has limited appeal, although the SW estate could be a bigger draw for families.
Engines, performance and drive
The 508 is comfortable but lags behind rivals in most areas
If you want a sporty family car, you'll be better off with a Ford Mondeo. The Peugeot 508 is designed with comfort in mind, with a soft ride and good sound insulation to boost refinement. However, it's only as good as its rivals, no better.
The steering is quite direct and has a surprising amount of feel, which helps to make the 508 feel reasonably nimble in spite of its size. The suspension is supple, but doesn't allow too much body roll in spite of its comfort-biased set-up. Only if you really want to drive spiritedly through corners will you miss the extra engagement of a sportier handling car like the Mondeo.
The 508 is also nicely refined, with little road noise or engine noise evident while cruising.
Engines
The 2014 update saw petrol engines dropped from the 508 range. The HYbrid4 model did continue, and this combines an electric motor with a diesel engine to offer four-wheel-drive and a total of 198bhp. It does 0-62mph in 8.5 seconds making it the fastest 508 model on offer, as well as the most efficient.
Otherwise, the choices are all efficient BlueHDi engines, which use special exhaust cleaning technology to reduce emissions and almost eliminate particulates. Peugeot reckons the system makes their diesel engines as clean as is currently possible, and all meet latest Euro 6 regulations.
The best all-round option is the 178bhp 2.0-litre diesel, which offers a surprising mix of performance and economy. It gets a six-speed automatic gearbox as standard, and does 0-62mph in 8.5 seconds.
The entry level 119bhp 1.6 BlueHDi has acceptable performance, if not searing pace. It offers 0-62mph in 11 seconds dead, but has sufficient grunt for overtaking.
The middle-of-the-road option is a 148bhp 2.0 variant that will do 0-62mph in 8.9 seconds. It's pretty good, but it lacks the extra punch of the 2.0-litre on the road.
MPG, CO2 and Running Costs
Reasonable running costs from efficient diesel engines, but poor residuals blight the picture
The Peugeot 508 was a popular choice with business users. If allowances permitted they would most likely pick the road tax-exempt HYbrid4 - which emits just 95g/km and returns 70.6mpg – or the 148bhp 2.0-litre BlueHDi which emits just 109g/km of CO2. Economy is also good with over 67mpg claimed.
The 119bhp 1.6-litre engine produces 103g/km of CO2 but can also muster 70.6mpg on the official combined fuel consumption test, which matches exactly the fuel consumption quoted for the hybrid model – although you don't get anything like the same performance.
Every 508 comes with air-con, electric windows, sat-nav, cruise control and alloy wheels, and all models should look competitively priced in the showroom. Allure-trimmed cars have electric leather seats and rear parking sensors, while top spec GT models boast a head-up display, xenon headlights and sports suspension for sharper handling – so there's not much you'll be wanting to spend money on from the options list. Running costs for all models should be reasonable for the class too, although residual values are likely to be relatively poor.
Insurance groups
Insurance groupings run from 25 to 37 for the 508 range, with the highest group rating reserved for hybrid models.
Depreciation
A lack of a premium badge means the 508 suffers from poor resale values. The worst performer is likely to be the smallest-engined car in GT Line spec, according to used valuation experts CAP. They reckon it will be hold on to just 31 per cent of its new cost after three years and 30,000 miles, so it could make a good second-hand purchase.
Even the hybrid models will barely perform any better under CAP's analysis, and the best performance you can hope for will come from the mid-range 148bhp engined 508 SW estate in lowest Active trim – predicted to hold on to 34 per cent of its new cost.
Interior, design and technology
The 508 has a premium design feel inside and out, although the fascia is a bit cluttered
The Peugeot 508 is a handsome saloon and the 2014 facelift helped it look more distinctive. It has a sweeping shape with a new grille and headlight combination. Peugeot appears to have tried to give the 508 the look of a four-door coupe like the Mercedes CLS, rather than a conventional saloon, although there's no avoiding its three-box shape.
The 508 SW estate and RXH models are quite attractive in their own right too, with the SW appealing to traditional estate car fans and the RXH adding an off-road look to the estate car body.
The 508's cabin is made of high quality materials, although how well they'll last is open to debate. It feels much more upmarket inside than the Ford Mondeo, instead rivalling cars like the Volkswagen Passat and Vauxhall Insignia which some people may find surprising. However, the dash, centre console and steering wheel are very cluttered, which spoils the effect a little. There are far too many buttons, which can make it difficult to navigate your way around the cabin, and the steering wheel is very busy too.
The head-up display screen – a bit of glass sticking out of the top of the dash – doesn't look very well integrated either. We much prefer systems that project their output onto the windscreen itself.
Sat-nav, stereo and infotainment
All models in the 508 line-up benefit from a high-level infotainment system, featuring a 7-inch touchscreen sat-nav that includes 5 years of free map updates. DAB radio and a CD player are also standard, as is Bluetooth phone connectivity with audio streaming, and Peugeot Connect SOS and Assistance. The colour head-up display is not available on the Active entry model, but is optional on Allure and GT Line and standard on the GT and RXH models.
Practicality, comfort and boot space
There's reasonable space inside, but a Mondeo is more spacious
The Peugeot 508 is more than 4.8m long – which is about the same as a Ford Mondeo. That means there's a decent amount of space, with plenty of room in the front, and the seats are comfortable for extended periods too. Visibility is good thanks to slim windscreen pillars, and a useful rear view camera is standard on all but the entry model.
There is a shortage of cubbyholes for mobile phones and drinks though, and the 473-litre boot is slightly down on the Mondeo. The HYbrid4 has a smaller luggage area because the batteries are hidden in the boot, but the trade-off is that it's sure-footed in the wet thanks to four-wheel-drive.
Size
The 508 measures-up at 4,830mm long, 1,853mm wide and 1,456mm tall. This puts it right in the middle of a group that includes the 4,767mm Volkswagen Passat, the 4,842mm Vauxhall Insignia and the 4,871mm Ford Mondeo.
Leg room, head room & passenger space
There's a reasonable amount of space in the back of the 508, although the tallest passengers will struggle for head and leg space. There's room for a middle seat passenger to get reasonably comfortable, as long as they're small. Isofix child seat mounting points are standard on the outer seats.
Boot
While the 508's 473-litre boot looks reasonable, it's a bit miserly compared to the Ford Mondeo and Vauxhall Insignia, which offer 540 litres and 530 litres respectively. Picking the hybrid model costs you dearly on the luggage front too, as overall luggage volume drops to just 339 litres to make room for the batteries.
The 508 does benefit from a large boot opening and low sill height which makes loading easy, and of course if you want more space you can always pick the 508 SW estate model, although again its estate rivals have more boot space.
Reliability and Safety
Question marks over electrics hang over the 508
Peugeot has made huge leaps in terms of reliability and safety over the years, and the Peugeot 508 earned itself a maximum five-star Euro NCAP crash test rating in 2011. All models come fitted with front, side and curtain airbags as standard, along with traction and stability control.
Advanced safety kit such as autonomous emergency braking isn't offered because the 508 was developed before this technology had come on stream, but the 508 does come with Peugeot's SOS emergency call system. In the event of an accident, the system can automatically alert emergency services. This pre-dates the latest e-Call functionality that EU legislation requires all new cars to come with from 2017 onwards.
As for reliability, due to the 508's relatively low sales numbers, it hasn't consistently appeared in our Driver Power surveys. However, we've had first-hand experience of electrical niggles from the 508 when we ran a 508 SW on our long-term fleet. The major gripes were with the electrics, which threw up assorted errors and malfunctions during its time with us. It certainly didn't instil confidence in the car's reliability.
Peugeot's dealers finished 17th in our Driver Power dealer survey, with owners reporting pleasant dealer facilities, but high prices when it came to repair and maintenance costs.
Warranty
All new Peugeots come with a 3-year unlimited mileage warranty and 12 months of breakdown cover. Peugeot also offers the ability to extend your warranty if the car is less than 3 years old and has covered less than 60,000 miles, while Renewal Warranties or an Approved Used Warranty can also be extended if your car meets the requirements.
Servicing
Service intervals for the Peugeot 508 are every two years, with the 1.6 HDi diesel having a mileage limit of 12,500 miles, and the rest of the range set at 20,000 miles.
Which Is Best
Cheapest
Name

1.5 BlueHDi Active 5dr

Gearbox type

Manual

Price

£26,370
Most Economical
Name

1.6 Hybrid Allure 5dr e-EAT8

Gearbox type

Semi-auto

Price

£34,175
Fastest
Name

1.6 PureTech 225 GT 5dr EAT8

Gearbox type

Semi-auto

Price

£37,325