"Polestar thinks rear car windscreens are a thing of the past"
Editor-in-chief Steve Fowler is not sure he's ready for a car with no window at the back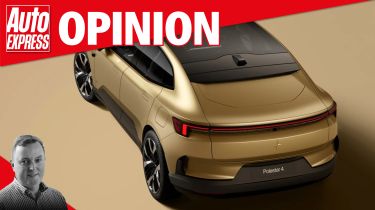 I'm a big admirer of what Polestar has done in a short space of time to take on Tesla. I like the style, the sustainability story, its sales Spaces and – like Tesla – it even has a charismatic boss talking the talk. In fact, were it not for the horribly lumpy ride, I'd probably be the owner of a Polestar 2 right now.
The new Polestar 3 SUV, pricey though it is, could fit into my life nicely (if it rides okay), or I could save a few quid and go for the Polestar 4.
There are a few notable things about the 4 that struck me when I was invited to see the new car in Sweden. Firstly, it's on another all-new platform, which means Polestars 2, 3, 4 and 5 will all use a different architecture to each other – that's pretty unusual these days.
Secondly, it's another stunning design – inside and out – with some clever thinking, especially around the materials used in the cabin. I like it very much.
Then there's the back. As you can see from the picture above (and following on from Polestar's Precept Concept) there's no rear screen. The firm thinks they're a thing of the past, and losing the glass has space and design benefits.
I'm torn – I love bold thinking and Polestar may well be right that there's a new generation of buyers who will trust in technology above all else. But I'm not sure I'm ready for a car in which I can't take a quick look over my shoulder to check what's behind me.
HD cameras feeding screens do the job, we're told. But if, like me, your vision isn't all it used to be and you need glasses, using a screen might pose some problems.
I'm long-sighted, so don't need glasses for driving, but I need them to see things on screens close-up. My colleague Sean Carson, on the other hand, is short-sighted, so wears glasses for driving but slips them down his nose to be able to see a screen. Neither of us are fans of digital rear-view displays – we prefer mirrors. So has Polestar made a mistake? Time – and buyers – will tell.
Do you agree with Steve? Let us know your thoughts in the comments section...