Is Porsche's Active Suspension Management system worth it?
We give you an overview of Porsche's PASM electronic active damping system – and a verdict on whether you should spec it on your car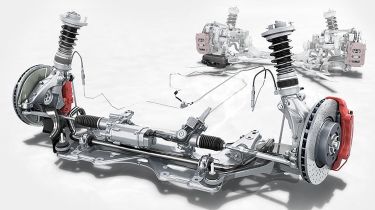 Porsche's Active Suspension Management system (PASM) is an electronic active damping system which is available as an optional extra on all of the German manufacturer's current, lesser-powered Boxster, Cayman, Macan and Cayenne models – but is standard on the more powerful versions. The system is also fitted as standard to all 911 and Panamera derivatives. 
Porsche PASM is not to be confused with Porsche PSM (Porsche Stability Management) which is a stability control system that works to enhance traction while preventing understeer and oversteer. 
The PASM system features a unique set of fluid-filled dampers, each of which is fitted with a valve which can restrict the flow of oil inside the unit altering the firmness of the car's suspension. The dampers have two settings, which the driver can select from a button mounted on the car's centre console.
• Best sports cars on sale now
In Normal mode, the damper valve is open and the fluid is allowed to flow freely. Porsche says this setting offers a blend of performance and comfort. Sport mode delivers a firmer ride by closing the damper valve and restricting the flow of oil which, according to Porsche, provides improved handling.
On sports cars such as the 718 Cayman and Boxster, PASM comes with a 10mm drop in ride height. The system can also works in tandem with Porsche's air suspension system, as fitted to the Macan and the Cayenne, offering a six-level adjustable ride height.
When offered as an option, Porsche's Active Suspension Management system is priced according to the model on which it is specced. On the 718 Boxster and Cayman, it costs around £1,000; and it's a similar story on the Cayenne, but the Macan offers it at around £800. The system on the Porsche's two SUV can also be specced as a package with air suspension for around £1,900 on the Macan and £2,600 on the Cayenne.
We've driven PASM-equipped examples of each of the cars in Porsche's range – and the system does make an appreciable difference to the way they drive. It varies from model to model but Sport mode noticeably enhances the already impressive body control, coping with big compressions and sudden crests well. However, the damping can be a little firm on UK roads, especially if you've also chosen one of the larger wheel sizes.
If you're in the market for either a Boxster, Cayman, Macan or Cayenne, we'd suggest spending the extra money and opting for PASM adaptive suspension. It offers more adjustability for the Cayenne, an extra layer of capability to the Boxster and the Cayman and turns Macan into one of the finest handling SUVs on the road.
Would you opt for Porsche's Active Suspension Management system? Let us know in the comments section below…