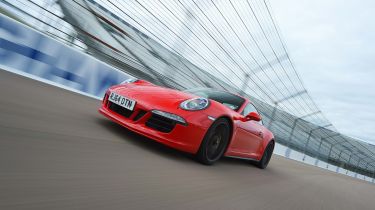 What a lovely machine the new Porsche 911 GTS is. Fabulous to drive, great to look at and lovely to sit in. The GTS is the best all round package of the entire 911 model range as the upgrades make it well worth the extra cash over lesser versions. Plus it's the most powerful 911 available with a manual gearbox.
To Porsche anoraks, the GTS badge has a strong pedigree. It first appeared on a very successful racecar back in the 1960s, and that's something most people actually in the market for a brand new 911 won't care about one bit. What will matter, however, is how the GTS offers the second finest 911 driving experience after the GT3 yet doesn't compromise the qualities that make lesser versions such useable everyday road cars.
Okay, so paying over ninety grand for a Porsche 911 which isn't a GT3 nor a Turbo may seem extravagant. But as we found when driving the GTS in the UK for the first time, it actually makes perfect sense. Here's the logic. The 3.4-litre Carrera is a very good car, but its engine is shared with the far cheaper Cayman S, which is actually a better sportscar. Plus you will still need to spend a bit on options to make it as nice to look at and sit in as the punchier 3.8-litre 400hp Carrera S which costs £83,545. But, please, don't stop there. For an extra £7,553 the GTS has 30hp more and plenty of added kit.