Porsche 911 Turbo S Cabriolet review
Powerful Porsche 911 Turbo S Cabriolet could well be king of the road, but comes at high price
The Porsche 911 Turbo S Cabriolet is a serious performance car, with the kind of acceleration and handling that could embarrass supercars with much higher price tags. When cruising, though, it acts like any other soft top, with impressive roof-down refinement. The only stumbling block is the price – nearly everyone that drove it said a 911 4S is better-value.
APART from the 918 Spyder, the Porsche 911 Turbo S Cabriolet is the most expensive Porsche you can buy, at £150,857. So, is it worth the money?
Purely based on the straight-line speed on offer here, it's hard to say you're not getting value for money. With 0-62mph in 3.2 seconds and 0-100mph in 7.1, this is one of the fastest soft-tops on the road – it'll beat a Ferrari 458 Spider, and costs £50,000 less.
Using the Launch Control function results in genuine laugh-out-loud acceleration, as the four-wheel-drive system immediately hooks up and you get 552bhp shoving you forwards with unrelenting brutality. The seven-speed PDK is almost undetectable in its shifts.
And it works just as well when you haven't got the pedal planted to the floor. It always seems to be in the right gear, and can shift up to sixth or seventh without you even noticing. It'll kick down quickly when overtaking. Roof down, with the sun shining, the great gearbox helps to make the Turbo S a surprisingly good cruiser. The ride is pretty stiff, but it feels extensively engineered enough to never crash noisily in to potholes or over bumps. Put up the electrically operated wind deflector and a motorway journey is easy.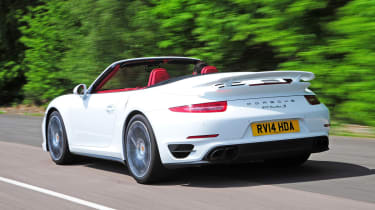 When it comes to handling, the Turbo S never feels as ultimately engaging as a Carerra S, it all seems a bit easy. Four-wheel-steering, dynamic engine mounts and active roll control all help it corner with surprisingly agility.
The fact that it's a Cabriolet doesn't really come in to the equation – it's not designed to be the purest 911 you can buy anyway – if you really want that, then take a look at the GT3.
For all the Tubo S's performance, there's still a niggling doubt about the price – a 911 4S Cabriolet feels like all you'd ever need and it's £50,000 less. There's no doubting the breadth of the Turbo S's abilities, we're just dubious about how much you have to pay for them.