Porsche Cayenne S E-Hybrid review
Is the strong performance and economy mix of the Porsche Cayenne S E-Hybrid worth its price premium over the Cayenne Diesel?
Porsche should be applauded for such an impressive piece of engineering, and for those company users that can afford to buy it or lease it, plus private buyers who can exploit the electric-only range on a regular basis, the Cayenne S E-Hybrid makes a lot of sense. It's refined and comfortable to drive, beautifully-built and has unquestionable badge appeal, but if cover high mileages or you're buying a Porsche for its sporty DNA, we'd look lower down in the range.
Who'd have thought just a few years ago that the manufacturer with the most plug-in hybrids on sale today would be Porsche? With the new Porsche Cayenne S E-Hybrid now joining the Panamera S E-Hybrid and 918 Spyder in the range, no other manufacturer offers more plug-in models but can a 2,425kg hybrid SUV stay true to Porsche's sporting DNA?
The claimed figures would suggest it can – with a combined output of 410bhp and 590Nm of torque, the 3.0-litre supercharged V6 and electric motor integrated into the eight-speed gearbox, can fire the Cayenne from 0-62mph in 5.9 seconds. But thanks to an electric range of around 22 miles, the claimed economy and emissions figures of 83.1mpg and 79g/km attract a BIK rate of just 11 per cent for company car buyers, (6 per cent higher than the 71g/km Panamera S E-Hybrid).
As always with plug-in hybrids, those figures are somewhat irrelevant in the real world. If you have a short commute to work and somewhere to plug it in the office car park, then the sky's the limit for your average mpg. But travel long distances on a regular basis and that extra 270kg of weight compared to the standard V6-powered Cayenne S will cause your economy drop off steeply.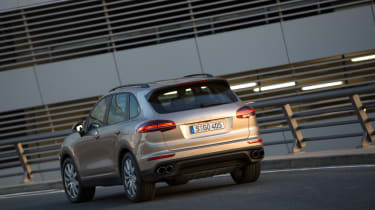 We drove a mixed route through small towns and fast country lanes, driving on electric power at slow speeds, and putting our foot down when the road opened up, and managed around 30mpg.
There are a few key differences between the Cayenne S E-Hybrid and the Panamera S E-Hybrid released last year. For starters the Cayenne is four-wheel drive, while the Panamera is rear-wheel drive, and the despite having identically-sized battery packs the Cayenne features newer technology and a higher power density – 10.8kWh versus 9.4kWh in the Panamera – allowing an the same electric range despite its inferior aerodynamics and extra bulk. A full charge takes three and a half hours from a standard socket, while a new high-voltage home wall box for the Cayenne only can cut that to 90 minutes.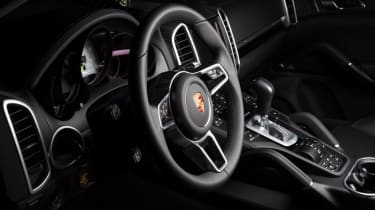 Leave the Cayenne in its default E-Power mode and you can float along silently with the engine off, up to speeds of 78mph. You'll need to be patient though; unless you're driving downhill and downwind, it's noticeably slower than the Panamera and struggles up steep hills. Keeping it in E-Power mode is easy though - a resistance point in the accelerator pedal warns your right foot that if its pushes any further, the engine will fire up.
When the battery is running low, or if you select it manually, Hybrid mode holds the current state of battery charge and juggles the petrol and battery power to propel you in the most efficient way possible. Pressing the sport button unlocks the powertrain's full potential and an E-Charge button let's you top up the batteries (an 80 per cent charge takes around 30 minutes) on the move.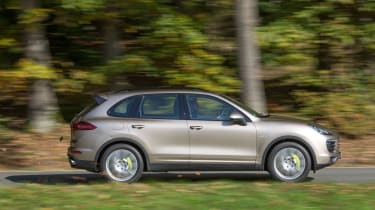 Hit 'Sport' on a twisting country lane, take manual control of the gearbox and there is some fun to be had. The engine produces a coarse growl as the revs rise, and you can feel the electric motor filling in any dead spots for a satisfyingly linear power delivery.
You can sense the suspension struggling to contain the extra weight in quick direction changes, but keep your steering inputs smooth and you can string a few corners together with surprising precision.
The thing is, driving the Cayenne S E-Hybrid like this is laced with guilt – you know it's not what its designed for and that a £47,390 Cayenne Diesel would be more efficient in the same situation, and probably more fun.
Read our round-up of the best 4x4s and SUVs currently on sale here