Porsche Cayenne S Diesel 2014 review
Porsche has facelifted the Cayenne for 2014, we see how it fares in Cayenne S Diesel form with a twin-turbo V8 oil-burner in the front
The Cayenne S Diesel's powertrain hasn't had a radical makeover for this facelift – just a handy few more miles per gallon and a launch control party trick. For most UK motorists, we predict the cheaper Cayenne Diesel will perform everyday motoring tasks with just as much competence, for less money, but the S Diesel's pace is so intoxicating, you must consider it. Thankfully the handling is as good as ever, and the looks are now just that little bit sharper. In the face of stiff competition, Porsche has delivered again.
Since the first Cayenne, Porsche has gone along way to improving its SUV's image through better styling and fuel-efficient hybrid versions. This facelifted version is unlikely to convert the remaining non-believers, but its more sophisticated styling and 83mpg plug-in model definitely bring it bang up to date.
Inside, the Cayenne is ageing gracefully, and well it might, given its button-heavy approach inspired every current Porsche's cabin, 918 Spyder excepted. The 918 hybrid supercar has in turn donated its multi-function steering wheel design and paddles to the new Cayenne. It combines a contemporary look with volume and telephone controls unlike the old SportDesign wheel, and is miles more intuitive as a result.
Our main criticism is with the sat-nav, which has slightly grainy graphics plus, it can lag when you're driving quickly, leaving your screen avatar behind your real-life location. It needs an update, but nevertheless remains superior to the rivalling Range Rover Sport's poor interface.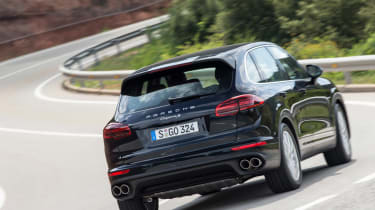 The rest of the cockpit remains as before: sublime materials, exquisite fit and finish, and a perfect driving position from which to exploit the Cayenne's surprisingly nimble handling. There are low-slung roadsters which don't seat the driver as well as the Cayenne does. Our only reservations are the tyre roar and wind noise around the bulky mirrors, which make the Cayenne louder inside than a Range Rover Sport or BMW X5.
Underneath the bonnet there are new turbocharged petrol engines and the V6-powered plug-in hybrid but we drove the Cayenne S Diesel, which offers a simply staggering set of numbers for a not insubstantial £61,474. The revised, cheaper Cayenne Diesel with its retuned V6 is not yet available to test, but will take the lion's share of UK sales.
At first glance, the Cayenne S Diesel's 4.2-litre twin-turbo V8's new vitals might underwhelm. Of course, this is relative – we're still talking a 911 Carrera-busting 380bhp here, and a titanic 850Nm. However, the horsepower figure has only risen by 3bhp, and the maximum torque output, from 2000-2750rpm only, remains the same. Compare that to the standard Cayenne Diesel, whose V6 swells by 16bhp and 28Nm, and you might, on paper, feel momentarily shortchanged by the S Diesel.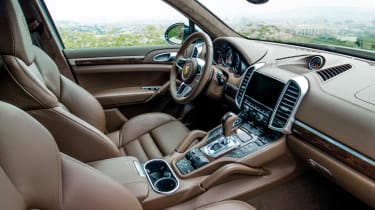 Right up until you put your foot down, that is. Despite the marginal power gains, new software for the standard eight-speed automatic gearbox and a launch control function for Sport Chrono-equipped cars has driven down the 0-62mph by 0.3 seconds, to just 5.4 seconds. The top speed remains at 157mph. Meanwhile, a coasting function for the gearbox decouples the engine to reduce resistance when cruising, and boosts fuel economy from 34mpg to 35.3mpg, and CO2 down from 218g/km to 209g/km. Hardly ground-breaking but moves in the right direction all the same. Plus, it even sounds great – if a little buzzy in the middle of the rev range.
Since the Mk3 Cayenne arrived, it's been challenged by the Range Rover Sport and a new BMW X5 for handling class honours but the Cayenne S Diesel remains a crushingly competent drive – not just good for an SUV, but excellent by most standards. Its prodigious torque is metered out to the rear wheels with precision, only triggering drive to the fronts when slip is detected. That largely rear-drive set-up gives an inherent balance to the car when driving quickly that is incredible for a car this large, heavy, and comfortable. It also has more reassuring steering weight than petrol-engined Cayennes. The brake pedal is beautifully progressive and the brakes themselves well up to the task of hauling this 2.2-tonne SUV to a standstill repeatedly.
This unfeasibly powerful Diesel S version has the pace, character and real-world economy to make the new Cayenne S petrol and even the Turbo all but obsolete for all but the most hardened serious drivers. The Cayenne may well still be far from the most beautiful or adored vehicle on our roads, but this S Diesel refresh is certainly one of the most diversely talented.