New convertible cars 2016: Rolls-Royce Dawn
The Dawn is truly the ultimate luxury convertible - elegant, near-silent, and exquisitely finished
From the moment you swing open the expansive rear-hinged door of the Rolls-Royce Dawn, it's clear that you're dealing with something special. This £265,155 four-seat convertible exudes opulence. Push the starter button, and the huge 6.6-litre twin-turbo V12 sparks into life in near-silence. It's the same engine as in the sportier Wraith coupé, only detuned to 563bhp here to better suit the Dawn's elegance and more relaxed character.
Extreme acceleration might not be a Rolls-Royce trait, but don't think this means this 2,560kg car is slow. With 780Nm of torque on offer and an eight-speed automatic gearbox, the Dawn serenely takes off and whisks you forward. The 0-62mph sprint takes 5.0 seconds, but the Roller's strengths are its long-legged lope and incredible comfort. The transmission uses the sat-nav to select the right gear for the section of road you're on, while the air-suspension cushions you imperiously.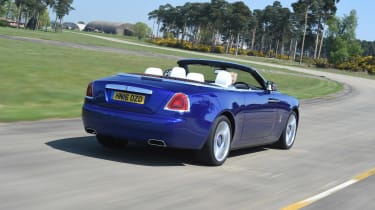 The dampers control the chunky body with velvety smoothness, but guide the delicate, narrow- rimmed steering wheel into a corner, and the Dawn takes a little longer to respond. You can carry surprising speed but, with just one default driving mode, this isn't a car you hustle along. You revel in the refinement as you cruise along peacefully. With the roof down, tyre noise is almost non-existent, and with the roof up, it's as silent as the Wraith. In fact, Rolls-Royce says the Dawn is the quietest open-top car ever made, and it's easy to see why.
More reviews
In-depth reviews
Road tests
Some convertibles look a little awkward with the roof up, but the Dawn's electrically folding canvas top has been sculpted so the lines are as elegant with it up as when it's stowed. The sumptuous interior shows off the British brand's exquisite craftsmanship, with wood veneers and plenty of chrome and leather sending the right message.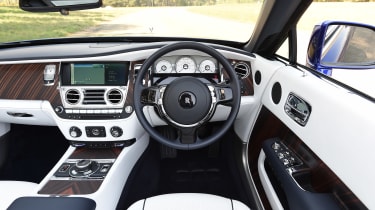 Ensconced inside, with a glorious view down the long bonnet and over the iconic Spirit of Ecstasy grille mascot, you get an unrivalled level of comfort for a cabriolet. It's incredibly spacious in the back, and with the top up there's enough headroom in the rear to give full-size adults plenty of space.
There are a few areas where the Dawn falls down, though: at £265,155, it's eye-wateringly expensive, while BMW drivers will recognise some of the button logos and the layout of the infotainment system. Still, with bespoke features like the dainty switchgear, it's churlish to pick holes in such an accomplished, superbly luxurious convertible.
Price: £265,155
Engine: 6.6-litre twin-turbo V12
Power/torque: 563bhp/780Nm
Transmission: Eight-speed auto, rear-wheel drive
0-62mph: 5.0 seconds
Top speed: 155mph
Official fuel economy: 20.0mpg
CO2/annual road tax: 330g/km/£505
Best new convertibles 2016