Mega-test 2016: new convertible cars to suit any budget
Summer is finally here, so we round up six of the best new convertibles to suit every budget from £14k to £265k!
The great British summer is here – or so they say. Despite our changing weather habits, we in Blighty love a convertible car – we buy more of them than anybody else in Europe – so we've done the legwork for you, and tested six of the hottest new drop-tops you can buy in 2016.
All manner of cars are tested here, from the cheap and cheerful Smart Fortwo Cabrio, to the track-focused Caterham 620S, right up to the ultra-luxurious Rolls-Royce Dawn. Whether you're after something to hoon down a back road, or a relaxed boulevard cruiser, 2016 has you covered for all your cabriolet needs.
Something missing?
There's one notable omission in our test of 2016's hottest new cabriolets – the Range Rover Evoque Convertible. It's a controversial car, and one a little removed from the sort of vehicle typically produced by Land Rover.
• Range Rover Evoque Convertible first drive
However, response online and on the news-stand shows that it is a car that many readers have an interest in and strong opinions about, and we would be letting you down if we failed to give it the coverage you expect and that we think it deserves.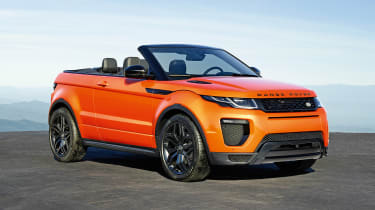 After the international launch, it's common practice for car manufacturers to then hold driving events in the UK, as how a model drives on British roads is clearly of most relevance to buyers here. Land Rover followed this route with the Evoque Convertible, but for the first time ever chose not to invite Auto Express to attend. Unperturbed, we requested a car for this test. Land Rover told us it could not supply one.
Land Rover was unprepared to tell us when – or indeed if – we will get the chance to drive this UK-built car on UK roads. Still, for those who missed it the first time round, here's our first test of the Range Rover Evoque Convertible.
Now, click the links below or to the side to see our reviews of the hottest new convertibles for 2016…
Best new convertibles 2016