New convertible cars 2016: Smart ForTwo Cabrio
It's tiny, cute and far better to drive than its predecessors - the latest Smart ForTwo Cabrio is cheap and cheerful open-top motoring
The S-Class Cabriolet is Mercedes' biggest drop-top, and at the other end of the spectrum sits the Smart ForTwo Cabrio. At 2.6 metres long, it's nearly half the length of the S 500 and is a world away from its sibling with two seats and compact packaging.
There's been an open-top version of the Smart car since 2000, and the latest model has just been given the drop-top treatment. Prices start at £14,260 for the entry-level 70bhp Passion, and here we test the 90bhp turbo model. The electric roof features two-stage opening, so you can peel the canvas back to the edge of the roof and keep the rear glass in place, or you can fold that down for the full cabrio experience.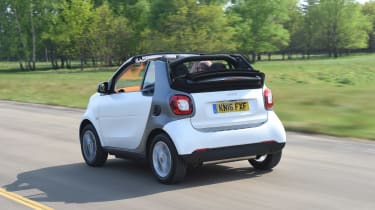 Whichever mode you choose, the ForTwo has an advantage over all the other cars here because you can open and close the electric roof at any speed – even on the motorway. It can go from fully closed to open in 13 seconds, while putting the top back on takes 11 seconds, although you need to press the roof button twice to get the full open-top experience.
You can open the roof via the keyfob, so if you've parked the car on a warm day, you can let some hot air out before you climb aboard. Plus, in a long dry spell, you can remove the roof bars over the doors and stow them in the boot. That means you only get the half roof, but it makes you feel even more exposed to the elements. The two bars stow in a moulded compartment that's set into the bootlid, yet it does encroach on the already limited load space on offer.
On the move, the Smart is reasonably comfortable with the roof down, although at motorway speeds with the canvas top rolled halfway back, there's a fair bit of buffeting to contend with. It's far better with the hood fully down, but that limits rearward visibility.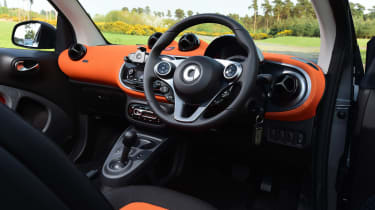 The rest of the Smart driving experience remains intact, and this latest model is far better to drive than its predecessors. There's a modest amount of power, so you find yourself trying to maintain momentum when you're not stuck in traffic, yet the steering is responsive and has the bonus of London taxi levels of lock, which makes tight urban manoeuvres a breeze.
Although the six-speed twin-clutch auto shifts slowly and doesn't like to be rushed, it doesn't suffer from the jerkiness of the old gearbox, which makes the ForTwo a lot smoother and more enjoyable to drive. The only real sticking point is the price, as the Cabrio carries a £2,140 premium over the standard car.
Price: £14,855
Engine: 0.9-litre 3cyl turbo
Power/torque: 90bhp/135Nm
Transmission: Six-speed auto, rear-wheel drive
0-62mph: 11.7 seconds
Top speed: 96mph
Official fuel economy: 67.3mpg
CO2/annual road tax: 97g/km/£0
Best new convertibles 2016