New convertible cars 2016: Ford Mustang
The Ford Mustang Convertible works surprisingly well in Britain - and the 5.0-litre V8 covers a multitude of sins
Ford struck gold by bringing the Mustang to the UK. It's competitively priced, has sharp looks and with hardly any rivals offering something similar, it's easy to see why there's a 12-month waiting list for cars coming here.
We've already tried the 2.3-litre EcoBoost Convertible and were quite impressed, but now it's the turn of the V8 model to strut its stuff. Just like the EcoBoost, this car has a two-stage roof, with a manual grab handle that unlatches the canvas hood from the windscreen header rail, then a button retracts the top electrically. The whole process takes 10.5 seconds, which is the fastest folding of the six cars tested here, while closing the roof takes 12.2 seconds – second only to the Porsche Boxster. You can operate the roof while moving, too, but it only works at a maximum speed of 3mph, which hardly makes it seem worthwhile.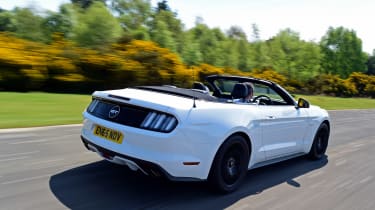 When the roof is down, you get some buffeting, but it's not much worse than in the Mercedes S 500, and the Ford does without any kind of wind deflector to smooth out airflow.
What you can really feel is the car flex and move, as the chassis doesn't have the stiffness found in the coupé. Bumps in the road send shudders through the cabin, and you can see the car twist as you drive through a series of bends. But what the Mustang loses in composure it more than makes up for with its rumbling V8 soundtrack. This 5.0-litre engine note redeems any aural disappointment from the EcoBoost model, and the whole car shimmies every time you blip the throttle.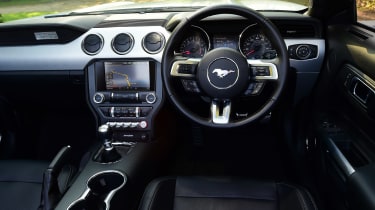 Wind it up, and the Mustang delivers fantastic straight-line performance, while Ford's TrackApps allow you to perform perfect standing starts, or there's the Line Lock mode so that your inner racer can smoke through a set of rear tyres.
Yet the car is at its best when you're taking it easy and soaking up the summer sun. The V8 simply burbles along in sixth gear at any speed, and while the ride is on the firm side, it's comfortable enough in most situations. With the roof up, the cabin is nearly as comfortable as the coupé's, yet with that V8 soundtrack just a press of your right foot away, you'll want any excuse to get the roof down so you can hear it in all its glory.
Price: £38,495
Engine: 5.0-litre V8
Power/torque: 412bhp/530Nm
Transmission: Six-speed manual, rear-wheel drive
0-62mph: 4.9 seconds
Top speed: 155mph
Official fuel economy: 20.8mpg
CO2/annual road tax: 306g/km/£505
Best new convertibles 2016