New convertible cars 2016: Porsche 718 Boxster
The first four-cylinder turbocharged Boxster is an absolute cracker, and its brilliant chassis marries perfectly with the new power unit
Last year, Porsche replaced the naturally aspirated engine in its 911 with a turbo unit – and now the German brand has turned to forced induction for its smaller Boxster roadster. It's also renamed the car, so it's now officially called the 718 Boxster to commemorate Porsche's racer of the sixties. But there's an even bigger bombshell in the engine bay: not only is the Boxster now turbocharged, it's no longer available with a flat-six.
The new 2.5-litre flat-four in the Boxster S produces 345bhp, which allows the six-speed manual model to race from 0-62mph in a claimed 4.6 seconds. And with 420Nm of torque available from as low as 1,900rpm, the 718 feels every bit as fast as its rapid figures suggest.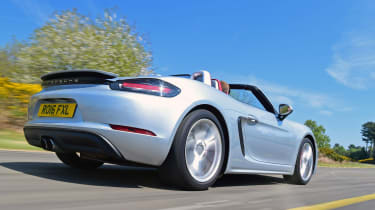 In its predecessor, you had to work the engine hard to tap into its rich seam of power and access that glorious noise, but in the 718 Boxster S, the extra low-down grunt provides incredible punch out of corners.
You have to wait for the turbos to spool up, but throttle response is still impressive and gets even better with revs. It's lost some of that razor-sharp response and high-end thrill as the motor romps towards the red line, but the new turbo engine still revs freely to its 7,500rpm limiter.
• Porsche 718 Boxster S review
However, you can't help feeling slightly short changed by the noise, especially with the roof down. Our test car's sports exhaust enhances the gruff bark of the flat-four, and while the engine definitely has presence, the thrashy, mechanical note doesn't always sound very melodious.
One thing that hasn't changed is the car's incredible balance and agility. With faster steering sourced from the 911 Turbo, rear suspension characteristics taken from the Cayman GT4 and a 10mm lower chassis, the 718 reacts to steering wheel inputs with speed and precision.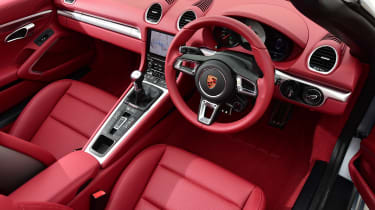 The PASM adaptive dampers deliver a composed and controlled ride in Normal, but this is a sports car, so you'll still feel the connection to the road. Drop the suspension into Sport and the 718 feels more aggressive. You can push it harder and lean on the high levels of grip, and the extra torque allows you to adjust your line through bends.
Plus, with a 375-litre boot, a comfy cabin and a roof that retracts in 11 seconds, the 718 Boxster S is usable every day.
Price: £51,105
Engine: 2.5-litre flat-four turbo
Power/torque: 345bhp/420Nm
Transmission: Six-speed manual, rear-wheel drive
0-62mph: 4.6 seconds
Top speed: 177mph
Official fuel economy: 34.9mpg
CO2/annual road tax: 184g/km/£225
Best new convertibles 2016