New convertible cars 2016: Caterham 620S
The S pack might make the Caterham 620 a little more friendly to use daily, but it's still a hardcore track-biased monster
Caterham's Seven 620 takes things to the next level in performance terms. Dropping a Ford-sourced 2.0-litre supercharged four-cylinder engine into the iconic British sports car makes for a rabid lightweight machine in 620R form, but for this latest 620S model, Caterham has dialled things back slightly to deliver a more usable road car.
The S Pack adds a five-speed manual box with longer gearing, so the 620S is actually a relatively decent cruiser. Full weather protection and a heater are also on the menu. Then there's the optional heated bucket seats. They cost a cool £1,000, but if you want to use the Seven in the winter months, they make the car much more habitable.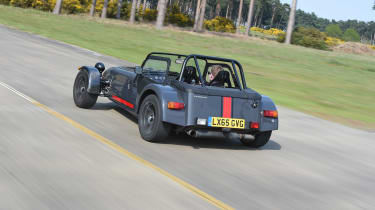 On top of this, the Sport suspension set-up isn't as harsh or as uncompromising as the 620R's race-tuned dampers, while 15-inch wheels also come as standard. However, there are relatively narrow rear tyres, so the 310bhp and 297Nm of torque will make the rubber spin if you try to surge off the line.
The 620S is also manically fast. Dial the right revs in, side-step the clutch and the 0-60mph sprint will be over in just 3.4 seconds. But the potent torque figure means this 610kg car doesn't just thrive on revs. You can surf the wave of performance in the mid-range by short shifting and savouring the snickety five-speed manual gearbox.
The soundtrack will be familiar to Caterham fans, too, and even through our test car's quieter track day exhaust, the 2.0-litre unit's bassy blare is easy to hear. Yet with the buzzing supercharger roaring away under the bonnet, there's an extra element of aural excitement to take into account here as well.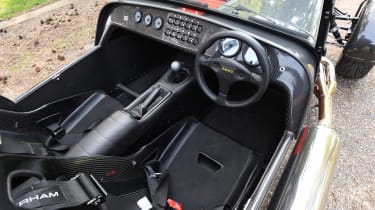 The 620S's strong suit is common to all Caterhams, though. The beautifully uncorrupted, non-power-assisted steering ripples with feedback and draws you into the driving experience even further. Gel with the Seven, and it definitely feels like it's on your side – working with you to deliver incredible driving enjoyment. And while the 620S might not be the most practical convertible, even in the wide body SV form of our test car, nothing on the market offers quite the same blend of crushing performance and usability.
However, these thrills don't come cheap, as the focused Caterham costs a substantial £44,995.
Price: £44,995
Engine: 2.0-litre supercharged 4cyl petrol
Power/torque: 310bhp/297Nm
Transmission: Five-speed manual, rear-wheel drive
0-60mph: 3.4 seconds
Top speed: 145mph
Official fuel economy: N/A
CO2/annual road tax: N/A/£230
Best new convertibles 2016