New convertible cars 2016: Mercedes S 500 Cabriolet
A gorgeous cabin, silky-smooth ride and more technology than nearly anything else at is sure to win the Mercedes S-Class Cabriolet some fans
Think of a luxury limo, and the Mercedes S-Class is likely to spring to mind. However, the brand's relentless range expansion means you can now get S-Class luxury in three different guises. There have been SEC-badged two-door coupés in the past, but the current line-up goes one better, as it features the S-Class Cabriolet.
Like the S-Class Coupé, the drop-top comes as a V8-powered S 500 and S 63 AMG, as well as a range-topping S 65 AMG with a V12 engine. But even the 'entry-level' S 500 is a sharp performer. It has a claimed 0-62mph sprint time of 4.6 seconds and a top speed limited to 155mph, although the Cabriolet is more about cruising luxury than outright pace.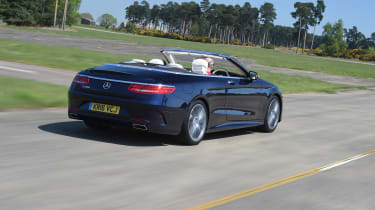 The cabin isn't far behind the Rolls-Royce Dawn's for upmarket appeal, which is quite an achievement when you consider that the S 500 costs half as much to buy. There's plenty of plush leather inside and wood veneers on the dash and doors, while the multi-layered canvas roof can be had in a choice of colours. And the Cabriolet is just as tech-laden as the saloon.
You get two large high-resolution screens with all the useful info in front of the driver, while adaptive LED headlights are also standard. Air-suspension can be switched between Comfort and Sport settings depending on how you want to drive. Go for the £4,995 optional Premium package, and you benefit from massage seats in the front, 360-degree cameras, a premium Burmester sound system, heated armrests and a neck heater, which blows warm air forward from the base of the headrests. If you're feeling even more flush, then Mercedes also offers a £2,660 headlight upgrade that adds Swarovski crystals.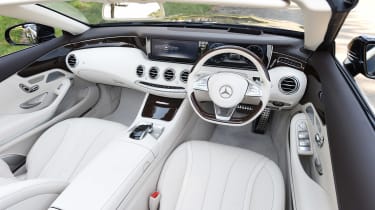 Open the front armrest, and you'll find the lever to operate the fully electric canvas roof. It's joined by a switch that drops all four windows at once, and another that raises the rear wind deflector and E-Class Cabriolet- style header rail deflector, which is designed to reduce turbulence in the cabin. The top folds in 18 seconds and can be raised in a slightly slower 19.3 seconds – plus, it can be done at speeds of up to 37mph (60km/h).
With the roof down, the Mercedes is pretty refined, although there is a noticeable amount of buffeting at speeds over 50mph, even with the wind deflectors in place. Yet the plush ride and smooth and responsive engine mean this is a great cruiser that lets you waft along on a wave of torque. Sure, the individual back seats are surprisingly cramped for such a large car, but the S 500 makes up for this with its sense of occasion.
Price: £110,120
Engine: 4.7-litre twin-turbo V8
Power/torque: 449bhp/700Nm
Transmission: Nine-speed auto, rear-wheel drive
0-62mph: 4.6 seconds
Top speed: 155mph
Official fuel economy: 32.5mpg
CO2/annual road tax: 204g/km/£290
Best new convertibles 2016