Skoda design revolution to usher 'Simply Clever' out and 'Simply Surprising' in
Skoda plans to ditch its 'Simply Clever' tag line with new, more emotional design direction for future models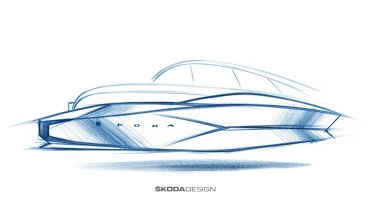 Skoda will aim to stir up more emotion through design as well as delivering elegance and comfort, the firm's chief designer Oliver Stefani has suggested. 
The Czech manufacturer has announced that it wants its motto 'Simply Clever' to evolve into 'Simply Surprising', and Stefani says that adding emotion to traditional Skoda values - in particular, functionality and practicality - is required to take the firm to the next level.
"With emotions you can inspire people for something and generally reach more people," Stefani said. "Design is often the most important reason why we choose to buy a particular car or not." The design chief wants this evolution of Skoda styling to create cars that deliver 'smart understatement' instead of ostentatious models. "We are not luxury, we are not premium, but we can be elegant and still surprising," he said. 
The first model to contain elements of the new language will be the Skoda Scala, a rival for the Ford Focus and VW Golf that's due on sale early in the new year. It is said to follow the looks of the Vision RS concept, introducing a new grille design that will be adopted, in various guises, as Skoda overhauls many of its key models in the next few years.
Skoda has issued a single sketch of a design project that shows how the existing styling approach - which uses sharp creases to reflect the Czech heritage of cut crystal - will be twisted and, in some cases, inverted in the next generation of models.
The cabins of cars, starting with the Scala, will also better reflect the exterior styling. In particular, Skoda's designers are taking the angles from around the badge at the leading edge of the bonnet and introducing them on the facia as 'character lines' that provide a base for the touchscreen - and give the user's hand a resting point from which to better interact with the system.
One element that has already been confirmed for production is the Skoda name written in capital letters across the tailgate, instead of the company's badge. This has already been seen on the teaser images for the forthcoming Scala hatchback and Stefani confirmed that it will be rolled out across the range. 
"In Europe, the badges are very well known," Stefani said, "but that's not the case in China. So when we asked the people there if writing out the name SKODA was useful, they were very enthusiastic. Then we went to our museum to see if we'd been there before and there are a lot of examples from the past. So it's something that we can draw from our heritage to take into the future."
Would you like to see a more emotional design language from Skoda? Have your say in the comments...