Skodas to get wrong-way warning system
New Skoda infotainment app developed by Bosch warns motorists who are driving the wrong way down a road of their error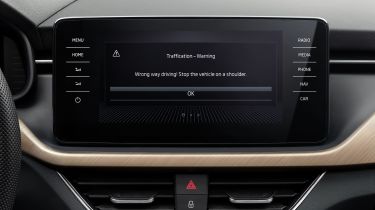 Skoda will fit its cars with a new warning system developed by Bosch that alerts drivers who are going the wrong way down a road to their error.
The infotainment app, which sends a warning directly to the car's display, will be available in the first quarter of this year on examples of the Skoda Superb, Scala, Kamiq, Karoq and Kodiaq fitted with top-spec infotainment systems. Other models are set to be included before the end of 2021.
The app - called Traffication - reads the car's GPS location as it enters or exits a motorway and compares it to the direction of traffic on that specific section of road. If these two pieces of information clash, a flashing alert will appear on the infotainment display.
This warning is designed to kick in within a few seconds, alerting the driver as soon as possible to their mistake. Oncoming road users with the app will also be alerted to the presence of a car going the wrong way - a feature that should be available later this year.
The app only reads the car's GPS data when it is entering or exiting a motorway. Bosch is in talks with other manufacturers to roll the system out on more cars.
The system has been available as a smartphone app in 25 European countries - including the UK - since 2018, and is soon to be introduced in the US and Canada. It sees 2.5 million unique active users each month, evaluating 4.5 million journeys.
"Our goal is to put the wrong-way driver warning system in every car," said Dr Mathias Pillin, president of Bosch's cross-domain computing solutions division. "Every death, every injury caused by wrong-way drivers is one too many. The more vehicles connected to the Bosch wrong-way driver warning app, the closer-knit the invisible safety net will be."
Michal Vondra, product manager for Traffication at Skoda, added: "Increasing safety on the road is an important goal for Skoda. Our new app called Traffication with wrong-way driver warning brings us a step closer to achieving it."
Check out the latest on the next-generation Skoda Fabia...