Facelifted Skoda Octavia to get new 1.5-litre petrol engine
The Skoda Octavia will get the VW Group's new 1.5-litre petrol engine later in 2017, while brand is undecided about electric Citigo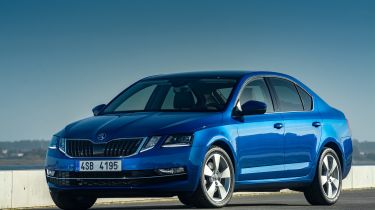 The Skoda Octavia has only just been updated with a new front end look and more in-car tech, but the car is set to get an even more significant update later in 2017 with the addition of the new 1.5-litre petrol engine first seen in the updated VW Golf.
Skoda's head of communications Peik von Bestenbostel told Auto Express that "the new engine is coming in the second half of this year."
In the Golf, the new engine produces 148bhp, although a 129bhp version could make its way into the Skoda as well as the VW in the future. The more powerful unit has cylinder deactivation tech to save fuel, and the less powerful 'eco' version can turn itself off completely and coast to save even more fuel.
Economy of 55.4mpg and emissions of 116g/km in the Golf give us an idea of how the engine will perform in the Octavia, which is based on the same platform.
Meanwhile, von Bestenbostel told us that an all-electric version of the Citigo city car based on the VW e-up is still being considered. Such a car would follow Skoda's plan to launch a hybrid version of the Sueprb, followed by an all-electric car unique to the brand (though it will be based on the VW Group's electric MEB platform).
"By 2025, 20 to 25 per cent of our slaes will be electrified cars. But that still leaves a lot of traditional engines," he said. "But if we sell 2 million cars that's only 500,000. 1.5million will still have engines."
Now read our review of the facelifted Skoda Octavia...