Skoda Fabia diesel prototype review
Verdict on prototype version of new Skoda Fabia with three-cylinder diesel
The petrol versions are set to be the top sellers when the car comes to the UK, but that's no reason to discount the Skoda Fabia diesel. If you cover enough miles to justify the steep price premium, then the three-cylinder TDI is as strong and refined an engine as any. Add in the much-improved looks and excellent practicality, and the Skoda should be near the top of any supermini shopping list.
Even with the camouflage of our early prototype car, the new Skoda Fabia's most appealing feature has to be its improved styling. But this latest version also gets a brand new 1.4-litre three-cylinder diesel, which we first saw in the recently facelifted VW Polo.
The key figures for the 89bhp diesel we drove are 83.1mpg fuel economy and emissions of just 88g/km. When a GreenLine version joins the range later – with power cut to 74bhp – these will plummet to 91mpg and 82g/km.
The other vital statistic of our 89bhp car is its 11.1-second 0-62mph sprint time. On paper, it looks a little slow, but it's how the Fabia does it that really makes it stand out.
This may be a three-cylinder diesel engine, but things are as smooth and quiet as a four-cylinder. There's the odd hint of roughness when you ask for more power from the engine, but it's never enough to be distracting. There's none of the steering wheel and accelerator pedal vibration that you might expect, either. Plus, with plenty of power low down in the rev range, those 11.1 seconds don't feel quite that long.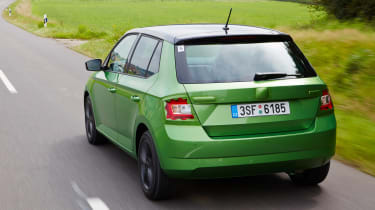 The gearbox is slick and assured, and while you only get five speeds with the diesel, it doesn't ever feel as if this car needs a sixth gear.
The Fabia also gets new electro-mechanical steering, which is light and easy to use at lower speeds and slightly heavier when you put your foot down for improved feedback – although it's still predictable rather than exhilarating. This new model's lower body and wider stance mean the slight lean in corners of the old car has gone, too, and it feels a more assured proposition for it – probably exactly what most Skoda buyers are after.
The brand has focused on other areas important to its customers as well, but mainly practicality, where the Fabia easily beats the likes of the Polo and Ford Fiesta. Most notable is the 330-litre boot (bigger than a Ford Focus'), which features two levels for the parcel shelf to sit at.