Skoda Fabia 1.2 TSI review
All-new Skoda Fabia supermini plays to Skoda's strengths, but at a price
For supermini buyers who value space and comfort, the Skoda Fabia will hit the nail squarely on the head. It's an easy rational choice, while the added style adds a bit of emotion, too. It's relaxed nature will win it many fans, but as the price creeps up, we're just a bit disappointed that the interior quality hasn't followed suit.
It's been a rollercoaster ride for the Skoda Fabia. The original model, launched in 2000, set new standards with its quality, value, space and style and went on to win a hatful of awards – it set the blueprint for modern Skodas under VW ownership. Then in 2006 it all went downhill fast – Mark Two was little more than a (badly) facelifted model that disappointed due to its bloated looks and lacklustre drive.
Now, though, the Fabia is back on form – an all new car that nods towards the original in terms of style (with a fair dose of Skoda's stunning Vision C concept thrown in for good measure) and space, plus a host of new features that lets the Fabia fight toe-to-toe with its talented rivals.
The Fabia has matured, but then so have the prices – there's no longer the big price advantage the old models had, although Skoda will point to the value of the added kit on board. Who'd have thought a Skoda would be a similar price to a Vauxhall Corsa, a Ford Fiesta or a Peugeot 208?
So the Skoda had better be good, and on the whole it is – the company's 'Simply Clever' mantra implies that they know exactly what supermini buyers want and this car mostly delivers. It's an easy to use, easy to own, stylish and spacious car with good equipment levels – no wonder Skoda continues to dominate our annual Driver Power customer satisfaction survey.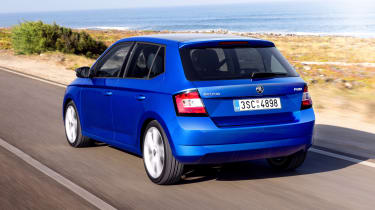 And although prices have gone up, kit levels have, too. Most buyers will (and should) ignore S trim although it does come with DAB radio and Bluetooth. SE adds air-con, alloys, a surround audio system and Front Assist autonomous emergency braking. SE-L also offers a keyless system, auto lights and wipers and LED DRLs.
Pick of a wide engine range is the 89bhp 1.2-litre TSI engine that does such good service elsewhere in the VW group's smaller cars. The Fabia uses some of the group's MQB modular architecture to good effect, from access to these engines and many of the electrical bits, too. In fact, a Skoda insider boasted to us that there's more MQB in the Fabia than in the latest Polo. How did the Germans let that happen?
We also drove the higher-powered 105bhp 1.4-litre diesel, although either that or the 89bhp diesel would be difficult to justify until the 91mpg Greenline arrives. Of the two three-cylinder 1.0-litre engines from the Citigo, we had a go in the higher-powered version and it was smooth enough, but less rounded than the more efficient and not much more expensive 1.2. There's also a 108bhp version of the 1.2 available.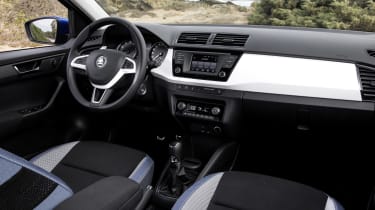 As well as being smooth revving, nicely powerful and with a relaxed gearshift, our 1.2-litre car had the best ride comfort of the models we tried – skipping over lumps and bumps without causing any discomfort. In fact, it's a great companion around town or on the motorway.
That comfort means the Fabia is no sports car to drive, but who'd want it to be? The fact that the steering is light and positive enough is more important than the lack of feel through the wheel or a bit of body roll the still tall-looking car suffers through corners. Of more importance is the fact you can enjoy a chat without interruption on the motorway, or listen to the stereo system with its surround sound option.
You'd expect the letters MQB to be accompanied by the words light and weight, and you'd be right this time, too. This Fabia is lighter than its predecessor, helping towards the decent claimed mpg figures for this car – just over 60mpg. Only the diesels dip into the tax free sub-100g/km bracket, but still 107g/km isn't too bad.
Those sharp edged lines, with a handsome crease that runs the length of the car and some delightful detailing in the front of rear lights, hide the fact that this model is slightly shorter and lower than the previous one, yet there's more space inside. Unlikely though it will be, a six foot passenger can just about sit behind a six foot driver with enough legroom and bags of head room. Of more importance is the wide opening rear doors that'll make loading toddlers into their seats easier than in some rivals.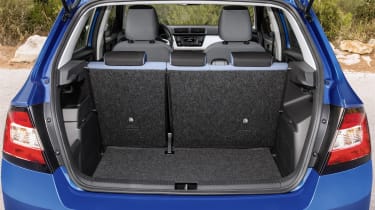 The boot's a handy size, too – 330 litres is 40 bigger than a Fiesta and it's a nice square shape, too, with some extra storage in the side panels. The rear seats fold easily at the click of a button, but they don't fold completely flat, nor is there a multi-level boot floor, as is the vogue these days. It'll only ever be an issue when you load long items, but even then it's not really a deal breaker.
There's plenty of Skoda's clever thinking around – we're particular fans of the ice scraper that lives in the fuel filler flap, while the door bins are wide and deep, the glove box will take more than just gloves and there's good storage ahead of and behind the gear lever in between the driver and passenger. There's even a stretchy pocket on the side of the passenger's seat, although we're not sure what anyone will find to keep in it!
Skoda will even sell you a clever smartphone holder that sits where smartphones normally sit - in one of the two cup holders. However, it'll have to be upside down to connect the lead to the USB socket, essential of you're going to use one of our favourite features of the Fabia – the MirrorLink connection that shows on the dash display exactly what's shown on your smartphone. That is if you have an Android-powered phone – you'll have to wait until the middle of next year for your iPhone to work the same way.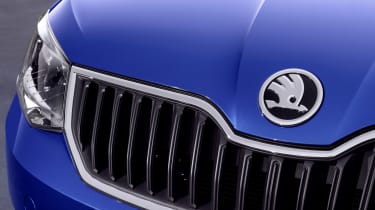 It lets you have access to navigiation, parking, weather and internet radio apps you'll live with day-to-day on your phone. Sure, the Vauxhall Corsa does a similar thing, but it doesn't exactly mirror what you see on the phone.
Where a Corsa does have a clear advantage over the Skoda, though, is on interior quality and that, along with the price hike, is the biggest disappointment with the Fabia. There isn't a soft-touch plastic to be seen in the cabin – it's all hard, hollow sounding, grained black plastic. Bright seat materials and a slab of body-coloured plastic across the front of the dash (that can even be personalised with family photos) brighten things up, but this is a sign of cost-cutting too far in a car with an inflated price tag. As another Skoda insider whispered to us: "We have to show some differentiation between us and VW".