Skoda Octavia vRS review
The petrol Skoda Octavia vRS is the fastest Octavia ever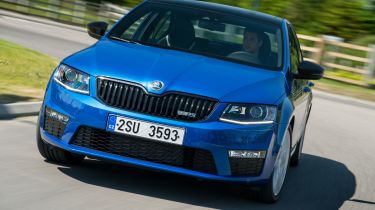 It's great that you can get Golf GTI-style performance in a car that's capable of dealing with family life, and all at a price that undercuts the VW by quite some margin. There are compromises, such as the sober styling and the slight handling disadvantage but when you take in to account the fantastic value on offer here, you can forgive it some of its minor downfalls.
The diesel Skoda Octavia vRS may be the biggest seller but it's the petrol model we review here that boasts the headline top speed of 154mph – that makes it the fastest Octavia ever.
All that performance comes from the same 2.0-litre turbocharged engine as the Golf GTI, producing the same 218bhp power figure. Unlike the Golf GTI there is no optional Performance Pack upgrade for more power but you don't really need it. Acceleration from 0-62mph takes 6.8 seconds and there's always a nice surge of torque waiting for you when you put your foot down.
Just like in the diesel version, Skoda has fitted the Octavia vRS with a sound generator to help improve the sound of the engine. Its use here is a lot more seamless and if you stick the Octavia in Sport mode there's a grown-up, hard-edged growl directed to the cabin.
In terms of handling, the petrol-powered vRS is definitely sharper than the diesel. Through high-speed corners it feels lighter and more agile. Unfortunately it doesn't feel quite as nimble as the Golf GTI because of its extra weight and it ultimately lacks the kind of connectivity and involvement you get from the best hot hatches.
The vRS rides on springs that are 12mm lower than the standard Octavia and it also features a set of unique dampers. The sportier set-up delivers a ride that's definitely firm but with enough give to take the edge off everyday bumps. Refinement is good but could be better – on the optional 19-inch alloys of our test car there was a bit too much tyre noise at motorway speeds.
Despite its bootlid spoiler, red strip across its rear bumper and more muscular bodykit, the Octavia vRS still has an air of sensible about it. It's a similar story in the cabin, which gets a set of sports seats, aluminium pedals and a vRS steering wheel but little else. You do at least get huge amounts of practicality, including the massive 590-litre boot, and if that's not enough then there's always the Skoda Octavia vRS estate.
It's the Octavia's practicality and value for money that set it apart from a lot of the hot hatch crowd, and this latest vRS is no different. With prices starting at £22,990 for the petrol hatch, it's more than £3,000 cheaper than the five-door Golf GTI.