Skoda Superb Est. 2.0 TDI Elegance - £25,000-£31,000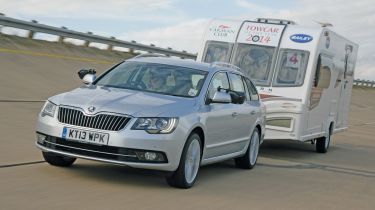 A returning champion took the spoils in another hotly contested category of our awards. The previous Skoda Superb Estate was overall Tow Car of the Year three years ago, but has been nudged off the top spot by the VW Jetta in the last two contests.
Now the Superb has been facelifted, with a new look, more kit and cleaner engines – and it's back in contention. Hooked up to the Bailey Unicorn Seville, our Elegance-spec car lived up to its name.
The cabin was beautifully laid out, and its quality put some premium brands to shame. No one will complain about the amount of room, either, as the limo proportions maximise passenger and boot space. On the road, the Superb is equally impressive.
The 2.0 TDI is ideal for towing, with 168bhp and 350Nm of torque – and so it proved on the hill route, as the car took the inclines in its stride. Precise steering makes the big Skoda a delight to drive, while your passengers will be cosseted by the smooth ride.
The six-speed DSG gearbox delivers seamless power, and the Superb excelled in our acceleration and stability tests. All this plus four-wheel drive – what more could you want from a tow car?
4WD (under 1,800kg)
SIX hopefuls were up for this award, but again the judges had no problem in choosing the winner. Skoda won this category last year with the Yeti 4x4, and it's taken the top spot once again this year, as the Superb Estate picks up its second trophy of our tow car test.
The family car has been given a fresh look as part of a recent revamp, with a wider front grille, restyled front end and distinctive new C-shaped LED tail-lights. The 168bhp 2.0-litre TDI diesel engine scored well in every element of our tests, and is perfectly complemented bythe DSG twin-clutch gearbox, with its fast and seamless shifts.
Add to this the brand's excellent four-wheel-drive system – which provides exceptional traction in all conditions – and you have what amounts to the perfect tow car. It's also amazingly practical in day-to-day use, with the large 633-litre boot capacity increasing to a massive 1,865 litres when the 60:40 split-folding rear seats are dropped down.
Plus, the high-spec Elegance model tested here comes with lots of great features, including directional xenon headlamps with those cool LED daytime running lights, and nifty umbrella stowage in the door.