New Subaru Forester poised for big LA Motor Show reveal
An all-new generation of Subaru's mid-size SUV is nearing launch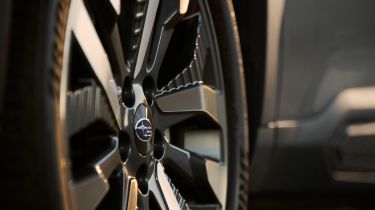 Subaru has teased a new car for the LA Motor Show this month and Auto Express understands this new model is the next generation Subaru Forester. 
Just last year we saw Subaru announce it will be bringing a new Impreza to the LA Motor Show and now it's the turn of its family-friendly SUV. We previously saw a close up of the wheel and Subaru now says an "all-new fully redesigned vehicle will make its global debut on November 16". The Japanese firm also said the car would have "upgraded safety and exciting new features". 
The current fifth-generation Forester was launched back in 2019 so this all-new model comes fairly soon in car life cycle terms, as a result we don't expect to see it arrive in the UK until the end of 2024 at the earliest - especially given that the current car was given a facelift earlier this year. 
We may see an entirely new powertrain arrive on the upcoming Forester. With the brand strengthening ties to Toyota, the existing 2.0-litre, four-cylinder boxer hybrid unit may be replaced for a Toyota powertrain. Such a move would most likely result in improved efficiency and performance. It's possible we could see a variant of the Subaru 2.4-litre turbocharged four-cylinder found in the Subaru BRZ and Toyota GR86 coupes.
The existing Forester is priced from £37,990, undercutting many of its rivals such as the Toyota RAV4 and Honda CR-V and we expect a marginal price increase with the new model.
Now read more about Subaru's new Sport Mobility Concept...